Lexus CT 200h awarded top Euro NCAP safety rating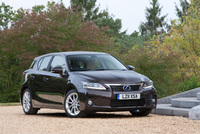 The Lexus CT 200h has emphatically proved its safety credentials with a top five-star rating from Euro NCAP. The organisation's independent crash testing of the new full hybrid luxury hatchback produced an overall score of 83 per cent, well above the benchmark for gaining the top ranking.

The rating takes into account the car's performance in four areas: adult and child occupant protection, pedestrian safety and "safety assist" performance, which covers provisions such as stability control, seatbelt reminders and speed limiters.
In its comments on the CT 200h's adult occupant safety performance, Euro NCAP drew attention to the maximum points scored in the side barrier impact test, the good protection offered by the driver and front passenger knee airbags and the high level of protection against whiplash injuries.

The car achieved an outstanding result in rear impact protection testing, thanks to Lexus's second generation WIL (whiplash injury lessening) seat technology. The headrests on the front WIL seats are designed to sit as close as possible to the occupant's head in normal use. If a rear impact occurs, the torso sinks into the seat, closing any gap between the head and headrest, thus reducing the risk of whiplash.

In the child occupant tests, the CT 200h scored well for the protection provided for both 18-month and three-year-old children. In the pedestrian protection category, the front bumper scored maximum points.

The car benefits from a highly rigid, impact-absorbing bodyshell and a comprehensive range of active, passive and pedestrian impact features that provide the best possible safety performance in all driving scenarios. It is the only car in its class to feature driver and front passenger airbags as standard.

In a first for the luxury hatchback segment, the CT 200h can be specified with an optional Pre-Crash Safety (PCS) system. This detects an imminent collision and primes the front seatbelts and emergency braking to reduce the risk of injury and damage. If an impact becomes inevitable, it will also automatically apply the brakes. Adaptive Cruise Control (ACC) uses the same millimetre-wave radar system as PCS to automatically maintain a safe distance from the car ahead.

CT 200h also benefits from an upgraded Electronically Controlled Braking-Regeneration (ECB-R) system that incorporates ABS, Brake Assist (BA), Traction Control (TRC) and Vehicle Stability Control (VSC).
For more information, visit lexus.co.uk.