STaSIS Audi S5 Cabriolet 410 bhp Challenge Edition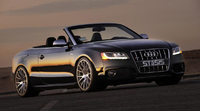 North American performance powerhouse STaSIS Engineering has unveiled the ultimate version of the Audi S5 Cabriolet – the 410 bhp Challenge Edition – which is now available for British customers for the first time.

Designed to unleash the car's competitive instincts, the STaSIS Engineering S5 Cabriolet Challenge Edition adds race developed technology to Audi's luxury convertible. Power and torque gains, an upgraded exhaust, performance-stretching Ohlins suspension, the brilliant feel of monobloc brake calipers, plus the added agility and sure-footedness of a road-gripping differential give you the ultimate in race-bred performance. From concept to production each new STaSIS component is rigorously tested to ensure maximum performance and factory levels of reliability.

The Challenge Edition delivers the no-compromise philosophy underpinning the STaSIS brand – a unique blend of cohesive powertrain, chassis and braking upgrades, that raise the performance of the 2010 onwards 3.0-litre supercharged Audi S5 Cabriolet to a higher plane. Indeed, there are few faster cabriolets on the road, certainly not with four seats.

Available now through award-winning VAG specialist and UK STaSIS distributor APS of Brackley, as well as STaSIS agents across Britain, the key technical features of the sensational STaSIS S5 Cabriolet Challenge Edition are as follows:-
Engine - ECU remap to 410 bhp (up from a factory 333 bhp)
Exhaust – Quad outlet T304 stainless steel with laser engraved tips and tuneable high rpm resonators
Brakes - Alcon 6-piston monobloc calipers, 370mm front two piece floating discs, high performance pads, braided stainless steel brake lines
Suspension – Ohlins SL dampers with double digressive damping for ride comfort, increased spring rate for better response and adjustable ride height
Wheels - 10.5 x 20 inch ultra-lightweight forged aluminium wheels with high performance low profile tyres

The STaSIS S5 Cabriolet Challenge Edition combines a 23% power increase with cohesive handling and braking enhancements to deliver ultra high performance combined with peace of mind and safety.

Everything STaSIS' engineers have learned at the racing circuit has been distilled into an Audi S5 Cabriolet upgrade package that's just as happy around town as it is on the open road, where it can accelerate from 0-60 mph in just 4.3 seconds (5.0 stock).
The STaSIS S5 Cabriolet Challenge Edition is available now from APS of Brackley and the UK STaSIS sales agent network. In addition, the individual components of the STaSIS S5 Cabriolet Challenge Edition are also available separately to allow owners to upgrade as funds allow.

For more information on the exciting STaSIS range, visit autops.co.uk.