The Italian Job' tops chart of greatest car movies of all time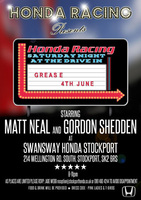 'The Italian Job' is the greatest car movie of all time, according to a survey carried out by Honda. The 1969 classic overtook other iconic automotive films including 'Bullit', 'Cannonball Run' and 'The Blues Brothers' to take pole position in a league of the UK's top ten car films.

Honda's research was conducted to celebrate its 'Saturday Night at the Drive In' events, staged at dealer showrooms up and down the country this summer to promote Honda's involvement in the British Touring Car Championship.

As well as highlighting the top ten favourite car flicks, the nationwide survey revealed some of the key ingredients that make up a great car movie.

'The Italian Job' was by far the most popular film among men, with over a third of them picking the '60s crime caper featuring Minis. Meanwhile, it appears the ladies prefer their cars with a little more 'Greased Lightening'. The 1971 musical 'Grease' was first past the chequered flag among British women with around a third (27%) of all the female votes.

Women argue that the key to a good car movie is not the plot but the actor behind the wheel that gets their engine revving, with one quarter of women polled rating a chiselled jaw and bulging muscles above all else.

Men, on the other hand, believe the key ingredient for an iconic car is down to the authenticity of the plot (26%), rating it twice as important as the number of car stunts (13%) or number of high speed chases (12%).

'Honda Racing: Saturday Night at the Drive In' is a series of events held throughout the British Touring Car Championship (BTCC) season, playing host to VIP screenings of the iconic films chosen by the public in the research. The events will be staged at Honda dealer showrooms and film fans and racing enthusiasts will get the chance to experience an evening of glamour and racing. Guests can get to be part of the film with a giant green screen and get up close and personal with Honda's BTCC drivers Matt Neal and Gordon Shedden as they share their racing experiences and team aspirations.

Responsible for some of the most memorable film quotes of all time such as "You're only supposed to blow the bloody doors off" and "Hang on a minute lads, I've got a great idea…" – the original 1969 classic 'The Italian Job' starred Michael Caine as the loveable, dapper mobster Charlie Croker as he and his team try to intercept a shipment of gold. The car chase scenes featuring red, white and blue Minis navigating the team's booty through the back streets of Turin became infamous throughout movie history.
For more information, visit honda.co.uk.