Get the perfect wedding nails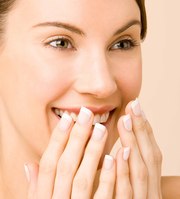 For your wedding, you want everything to be perfect, the dress, the flowers, the hair, the make-up and your nails. Your wedding day, is one of the biggest occasions of your life where you are queen for the day and nothing should be left to chance.
Like everything else on your wedding day, getting beautiful nails requires planning. There is nothing worse than having chipped and broken talons to undermine the beauty of the rock glittering on your left hand. Your nails are going to be on show for the whole day, just centimetres away from your wedding ring which is going to be viewed by family, friends and guests all day long.
Using Elegant Touch Flawless French Manicure and Classic French UV coated Non-Chip Nails, Kimmie Kyees, famous nail artist to the likes of Rihanna, Katy Perry and Eva Longoria, gives a step-by-step guide of how to achieve the perfect nails on the most important day of your life, watch the following video to see how you can get your nails in wedding condition.
For more information, visit: eleganttouch.co.uk