New attractions in Grenada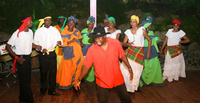 Two new attractions now offer visitors to Grenada the opportunity to discover the history of the island including an insight into the Caribbean's obsession, cricket, and see award-winning organic chocolate made by hand.
Opened in spring 2011, Spice Basket (spicebasketgrenada.com) is Grenada's newest attraction, providing a cultural experience for both visitors and locals alike. The site is conveniently located on the way from capital St George's towards Annandale Waterfalls and Grand Etang Lake - two of Grenada's finest natural beauty spots - and nestled within the lush surroundings of the Beaulieu village valley.
The celebratory Grenadian spirit is brought to life by the calendar of live music, dance and entertainment performances and a purpose-built theatre area is due to open in autumn 2011 to provide a home for Grenadian storytelling, comedy and drama.
Spice Basket Restaurant offers visitors authentic Grenadian cuisine – served in traditional iron pots - and local drinks, all to the soundtrack of live steel pan melodies. Local handicrafts and gifts are available from licensed outlets and the riverside tropical gardens showcase the spices and herbs that make Grenada the 'Spice Island'.
The Legacy Valley museum explores the island's rich and diverse history, from its geology and Amerindian artefacts to the Sugar revolution, slavery and the 'plantocracy' that brought the game that still unites the Caribbean islands today: cricket. The West Indies cricket story is told at the High Five exhibition that includes Test Match bats donated by Sir Everton Weekes and Junior Murray's Test Century bat.
Opening hours at Legacy Valley are 9am to 5pm, Tuesday to Saturday while Spice Basket opens 11am to 10pm, Monday to Saturday.
At Belmont Estate (belmontestate.net) chocolate lovers can follow the journey of cocoa from bean to bar on illustrated displays and to see the Grenada Chocolate being made by hand. The mouth-watering spectacle – accompanied by amazing aromas – is free and open from 8am to 5pm, Sunday to Friday. There is a fully-stocked Grenada Chocolate shop offering the full range of organic dark chocolate bars – familiar to UK connoisseurs - bonbons and hot chocolate powder.
Grenada is served by five flights a week from London Gatwick.
For more information, visit: Grenadagrenadines.com