'Glamping' holidays in the UK and USA from HomeAway.co.uk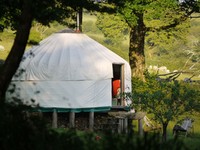 Get back to nature and swap your bucket and spade for the joys of camping and songs around the fire this summer. For those who love the outdoors but don't want to compromise when it comes to comfort, 'glamping' provides the perfect mix of stunning scenery, fresh air, modern facilities and comfortable sleeping arrangements.
HomeAway.co.uk, the UK's number one holiday rentals website, offers holidaymakers a range of alternative accommodation options for glamorous camping holidays, from romantic yurts in the British countryside to chic mountain retreats in the USA.
Get away from it all in the breathtaking Pembrokeshire countryside and rent a lovely romantic yurt in the foothills of the Preseli Mountains, or travel across the Atlantic to California in the USA for a unique experience in a secluded mountain yurt with stunning ocean views. Alternatively, for a more exotic setting, choose a Maui bungalow yurt in Hawaii; the kids will love it, it's eco friendly too, and at just £55 per night, you'll have some spare change for surfing lessons too!
So step into the future of camping and enter the world of glamping this year with one of the properties below:
Prices quoted are per property for the summer holidays and correct at the time of going to press. All properties still had good availability for the summer season.
UK
Farmhouse, converted cowshed, cottage, studio and yurt in Pembrokeshire
Yurt sleeps 4, From £200 per week
The property is located in the foothills of the Preseli Mountains and has direct access to the moor and mountains. The yurt is in a beautiful setting, in its own garden area with views to the moor. The accommodation is flexible, ideal for a couple or small family. The beautifully constructed yurt is made from ash and oak, with an outer cover of canvas. There is a wooden platform which keeps it above the ground and a pair of double wooden pine doors. Outside, there is a simple kitchen area, a shower and a toilet. There is electricity in the yurt kitchen area.
HomeAway.co.uk/p59425
Cornish manor cottage, yurt and organic farmhouse, Cornwall
Yurt sleeps 2, £310 per week
Botelet Farm is the perfect getaway for those who seek natural beauty, peace and clean air. The Manor House has a private walled garden and is tucked away within this rural farm setting adjacent to the farmhouse. Located in a sparsely populated location between the villages of Herodsfoot and Couchs Mill, Botelet offers tradition alongside some cutting edge design. There is a further cottage, B&B and yurt available. The yurt, a traditional Mongolian tent, is a wooden framed (crafted from local ash and oak) heavy duty canvas covered dome shaped tent on a wooden floor, raised on posts with a wood burner. Choose from two remote locations each sleeping two adults only.
HomeAway.co.uk/p1452
USA
Mountain yurt in Santa Barbara, California
1 Bedroom, Sleeps 5. £582 per week
Secluded in the mountains overlooking Santa Barbara and the ocean, this is a large 30 foot size yurt, with a large deck spanning all the way around with gorgeous views. There are hiking trails and a hike to a creek and waterfall nearby. The yurt is completely secluded in the mountains, yet only 20 minutes to downtown Santa Barbara.
HomeAway.co.uk/p148432
Creekside yurt retreat at Mount Shasta
1 Bedroom, Sleeps 6. £429 per week
Live in this secluded 30 foot diameter yurt with attached 12 foot bath tucked amongst the cedars on Eddy Creek. Relax on the deck, enjoy the views, the sound of the creek, watch the wildlife, rest and read in the hammock or take a hike up the road into the Shasta-Trinity National Forest. During summer months, an 18 foot tipi is available for ceremony, meditation and/or extra sleeping quarters.
HomeAway.co.uk/p394435
Eco-friendly Maui bungalow in Hawaii
1 Bedroom, Sleeps 4. £55 per night
Half a mile off Hana Highway in Haiku, Maui, lies an eco-friendly environment for your unique Maui experience. The round space and high ceilings provide a wonderful warm but not confining feel. The yurt has ocean views and a beautiful 700 square foot open space paradise with a king size bed, full bath, with an indoor and an outdoor shower, and a fully equipped complete kitchen. The property is fully furnished and has wireless internet, cable with a flat screen TV and washer/dryer on site.
HomeAway.co.uk/p388083