£25 Cherry Vimto prom dress goes on sale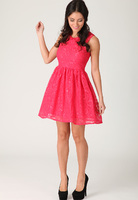 Prom season is almost here and plans will soon be under way for the biggest event in any girl's social calendar. To mark this, Cherry Vimto has teamed up with online fashion boutique Missguided.co.uk to launch the £25 Cherry Vimto prom dress.
This stunning cherry dress demonstrates this season's must-have coloured lace trend and has a vintage feel, ensuring it will be sure to turn heads at any prom. Plus, with a price tag of just £25, girls everywhere can look great without blowing the budget.
Plus, prom queens can visit the Cherry Vimto Prom Facebook page at facebook.com/cherryvimtoprom, which is crammed full of prom style hints and tips, star style steals and a prom planner to make sure everything is ready for the big day. There are also loads of chances to win fab prom prizes.
On-trend teens can get their hands on the Cherry Prom dress at: missguided.co.uk