Make the switch to a new home in Hereford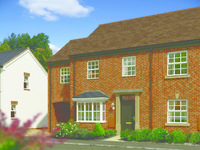 Why waste time and money on home improvements when you could buy a quality built brand new home in Hereford?
That's the question Crest Nicholson is asking house hunters and homeowners as the award-winning developer encourages people to visit The Furlongs.
Located in Roman Road, Holmer, The Furlongs offers a choice of three and four-bedroom properties that are low maintenance but high in style.
Amanda Benjamin, sales manager for Crest Nicholson, commented: "There are lots of older properties for sale in the Hereford area and many visitors to The Furlongs are torn between a home that perhaps is in need of modernisation or somewhere that's shiny and new. We encourage homebuyers to think of the practicality and expense involved: do they have the time and money to invest in the repairs that a second hand property may require or would they prefer to be able to choose how their new home looks and then relax while we do the work for them?"
Among the properties available at The Furlongs is the four-bedroom Langdale, priced from £219,950.
At the hub of the Langdale is the combined kitchen and dining room, which is a great place for budding cooks to socialise or spend time with the family while rustling up a tasty treat.
Patio doors lead from the kitchen and dining room to the garden to give meal times and alfresco feel; plus there's also a separate lounge where householders and guests can relax in comfort.
Upstairs the master bedroom boasts an en suite to complement the family bathroom.
"Whether you opt for the Langdale or one of the other styles of houses available at The Furlongs you will have the opportunity to customise the finish of your home. For example we offer a choice of kitchen cupboards, drawers and worktops plus a selection of bathroom tiles, that enable customers the chance to put their own stamp on their new home," Amanda explained.
"Modern heating systems, double glazing and high levels of insulation mean that our new homes are more energy efficient than older properties. This means they should be cheaper to run, saving householders' money on utility bills while also helping the environment."
Visit The Furlongs to discover more about the advantages of buying a brand new home. For details of the latest availability and pricing, see the website: crestnicholson.com/thefurlongs