Summer spectacle in Tokyo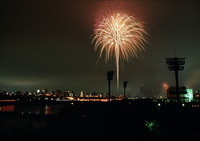 Every year on the last Saturday of July tens of thousands of fireworks are set off in Tokyo's old town as part of the Sumidagawa Hanabi Taikai, or Sumida River Fireworks Display, as the evening sky explodes with dazzling colours.
While its origins are shrouded in mystery it dates back many hundreds of years. One theory is it was started by the common people enjoying fireworks in the cool of the evening, while another is it was part of a festival dedicated to a water deity held to appease the souls of those who had died of starvation or plague in the 17th or 18th century!
Today thousands of people line the banks of the Sumida river to enjoy the spectacle, while another popular spot is around Asakusa station.
Specialist operator Japan Journeys can offer a wide range of guided tours and independent packages to the country taking in such fascinating events as the Sumida River Firework Display.
For full details, visit: japanjourneys.co.uk