Panasonic LUMIX GF3 - Get more from every moment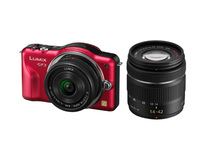 Panasonic's LUMIX GF3, its smallest and lightest interchangeable lens LUMIX G system camera, is designed to help you get more from every moment. Easy to use, bursting with features and weighing under 225g, the LUMIX GF3 puts DSLR image quality in the palm of your hand.
Designed to give you more
The LUMIX GF3 means taking your photography to the next level doesn't need to weigh you down. New breakthroughs in innovative design make the LUMIX GF3 Panasonic's smallest and lightest interchangeable lens camera, but still packed full of advanced technology. With an aluminium chassis, easy-to-handle grip and a choice of four colours, the LUMIX GF3 is the perfect everyday companion.
Get more from every moment
With an image sensor far larger than an average point-and-shoot camera, the LUMIX GF3 gives you high-quality photography and AVCHD Full HD movies in a camera still small and slim enough to fit in your pocket or handbag. An advanced Micro Four Thirds 12.1-megapixel Live MOS sensor, alongside the high-performance Venus Engine FHD image processor, lets you take beautiful photos and high-definition movies wherever you are, even when shooting in low-light situations.
See more of your world
The LUMIX GF3 puts creative photography at your fingertips. Easy to use and bursting with features, the LUMIX GF3 gives you simple, intuitive controls to help you get more from your photography. The stunning three inch LCD touch screen lets you view the effects of your creative changes before shooting making it easy to experiment, while the advanced automatic functions – including "Creative Control" and "Photo Style" - let you get professional results. Additionally, in iA+ (Intelligent Auto Plus) mode, Face Recognition will remember the settings for your friends and Intelligent Scene Selector will automatically switch to the appropriate mode according to the subject touched.
Take more control
Life moves quickly but you won't get left behind with the LUMIX GF3. It can automatically focus your shots in up to 0.18 seconds, perfect for capturing great images at a moment's notice. Whether you're with your friends at a party, or shooting a scene on the street, the LUMIX GF3 will be with you for fast, accurate and artistic photography.
Sven Dabelstein, Senior Manager Product Marketing, Optical Products, Panasonic Marketing Europe: "We'd all like to take professional quality photos, but no-one wants to carry around complicated and heavy DSLR cameras every day. That's why we created something different with our LUMIX G range of interchangeable lens cameras. Each one is designed to let you get more out of your photography with ease. The LUMIX GF3 is our most stylish, smallest and lightest interchangeable lens camera with integrated flash yet. High-end photography is now part of your everyday."