Orchard Gate gets a thumbs up from first time buyers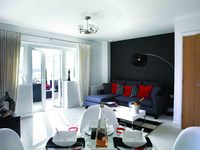 A brand new property development in Shoreham-by-Sea is striking gold with first time buyers priced out of the Brighton market. Situated just 20 minutes away from the city, Orchard Gate is proving popular with buyers looking to take their first step onto the property ladder.
With a selection of newly built terraced houses available to buy through its exclusive first time buyer scheme, Crest Nicholson's coastal development is attracting new purchasers seeking the low maintenance lifestyle that comes with the new homes. Under the HomeBuy Direct incentive*, first time buyers can purchase a property from as little as 70% of the asking price whilst retaining 100% ownership from day one. The remaining value is loaned to the purchaser via an 'equity loan', jointly financed by Crest Nicholson and the Government.
Natalie Atkins, Land and New Homes Manager for local selling agents Fox & Sons, commented: "We are seeing a high demand for new-build properties at present, especially from first time buyers who are attracted by the quality, prices and incentives that Crest Nicholson is offering. The superb new homes available at Orchard Gate are unsurprisingly popular and provide a huge draw for those looking to move to Shoreham-by Sea. I would urge anyone interested in the homes at Orchard Gate to get in touch as soon as possible as they are unlikely to remain available for long."
Jenny Pennells, Marketing Manager for Crest Nicholson South, added: "Due to its convenient location and ready-to-move in properties, Orchard Gate is getting a lot of attention from first time buyers. The HomeBuy Direct houses are competitively priced for the area and provide new buyers with an ideal opportunity to purchase a high quality coastal home. We would encourage buyers to act swiftly if they don't want to miss out on the HomeBuy Direct incentive."
Situated on Upper Shoreham Road, Orchard Gate has a selection of three bedroom HomeBuy Direct houses which are available to reserve off plan. The traditionally designed homes offer open-plan living/dining areas, perfect for entertaining. The kitchens are beautifully fitted featuring brushed steel Bosch appliances whilst the bathrooms offer stylish white suites finished with chrome accessories.
Just a short walk to the beach and only 20 minutes from Brighton, Orchard Gate provides the best of both worlds. The town centre offers a good range of shops, bars and restaurants and Shoreham Mainline Station is close by – with direct services to London Victoria in just over an hour. Alternatively, Brighton is just under 20 minutes away**.
Prices for a three bedroom, off plan house start from £203,000 (full price £290,000) when bought through HomeBuy Direct. For more information or to view the three bedroom show house, please visit the Sales and Marketing Suite at Orchard Gate, which is open daily (10am – 5pm).
* HomeBuy Direct is open to households earning a joint income of less than £60,000 a year and offers purchasers the chance own 100% of a new home for as little as 70% of the property's market value. The outstanding amount (up to 30%) is loaned to the purchaser via an 'equity loan', jointly financed by Crest Nicholson and the Government. There is no interest to pay on the HomeBuy Direct loan for the first 5 years, and no additional premium fees or charges. After five years, purchasers will be charged a fixed rate interest of 1.75 per cent, rising annually by the Retail Price Index (RPI) plus 1 per cent. The life of the loan is 25 years (or until the property is sold), after which purchasers will need to repay the loan calculated on the value of the property at the time of repayment.