Biscuits giant takes another Mercedes-Benz bite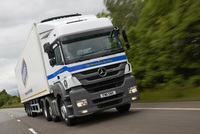 So impressed was United Biscuits with its first Mercedes-Benz Axor tractor units that when crunch time arrived it was only too happy to replace them with more of the same.
The company only confirmed its decision, however, after Mercedes-Benz combined success in a fuel economy 'shoot-out' with a highly competitive lease deal.
As its initial batch of 10 Axors neared the end of their five-year Mercedes-Benz Financial Services operating lease, United Biscuits embarked on a programme of week-long vehicle trials.
"We tested 6x2 tractors by five manufacturers," confirmed National Transport Controller Bill Hooton. "The Axor was one of two vehicles to deliver the best fuel return of 9.5mpg, so we were delighted when Mercedes-Benz also came back with a very attractive finance package."
United Biscuits (UB) is a leading European manufacturer and marketer of biscuits and snacks – its portfolio includes some of Britain's best-loved brands including McVitie's, Penguin, go-ahead!, McCoy's and KP Nuts. UB's branded biscuits were purchased by 96 per cent of UK households in 2010!
United Biscuits now runs 27 Axors from its main depot in Ashby-de-la-Zouch, Leicestershire – the latest order is for 15 units while it also took a dozen in 2008; the last three vehicles by its previous supplier are restricted to local duties. The company also relies heavily on third-party hauliers to pull its 250 trailers.
Like their predecessors, the new tractors are 430hp Axor 2543LS models with high-roof sleeper cabs and arrived via East Midlands dealer Mertrux. United Biscuits has also signed-up, once again, to a five-year operating lease with Mercedes-Benz Financial Services.
In a new departure, though, the latest arrivals are equipped with the 12-speed Mercedes PowerShift automated transmission which is now standard on all Axor tractor units – the previous nine-speed manual gearbox has become an option.
"If it hadn't already been made standard by Mercedes-Benz we'd have specified the automated 'box anyway this time," confirmed Mr Hooton. "As with every fleet, some of our drivers are more fuel-efficient at the wheel than others. By allowing the truck to optimise its own gear changes, we're hoping the Mercedes PowerShift system will help to lift the rest much closer to the best in terms of mpg performance, while also reducing drivetrain wear and tear."
United Biscuits has been focusing heavily on training too. The company recently put three of its most experienced drivers through a 'Train The Trainer' programme at Mercedes-Benz UK's Wentworth Park Driver Training Centre in Barnsley, while Mertrux has also delivered on-site instruction at Ashby.
"Our first batch of Mercedes Axors proved very reliable," said Mr Hooton, "and delivered a step-change improvement in terms of average fuel consumption compared to the vehicles we'd been running previously, with some of our best drivers achieving close to 10mpg."
Working in tandem with new Cartwright temperature-controlled trailers – United Biscuits has also just invested in 58 of these – the Axors deliver to the regional distribution centres of major supermarkets and other retailers.
Mr Hooton added: "We have just agreed with Mertrux a programme of quarterly service reviews to monitor and manage the support they provide to our in-house maintenance team. The dealer understands our operational requirements and continues to demonstrate a high level of professionalism."
For more information, visit unitedbiscuits.com.