Mercedes-Benz Actros are grist to Miller's fleet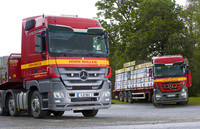 Leading Cumbrian haulier John Miller Transport has reaffirmed its faith in the three-pointed star by adding another pair of Mercedes-Benz Actros tractor units to its high-profile fleet.
The company runs 70 trucks from sites at Sandysike, near Carlisle, and Dalbeattie, across the border in Scotland. Most of those which operate from Sandysike are on general haulage work, although seven pull bio-fuel tankers, while the trucks based in Scotland haul round timber.
Both new arrivals are 6x2 Actros 2546 MegaSpace tractors and arrived via Carlisle dealer Ciceley Commercials, which supplied all but a handful of Miller's Cumbrian fleet. A further seven Actros are also due to be added later this year.
One of the new arrivals has been assigned to general work while the other is fitted with pumping equipment and working with a road tank on John Miller's contract with Argent Energy, hauling bio-fuel and the raw waste matter from which it is produced.
Director Davie Carson, who runs the haulage business, said: "We have established a fantastic relationship with the dealer in both Carlisle and Dumfries; the back-up we get from Ciceley Commercials, and indeed from the whole Mercedes-Benz network, is phenomenal.
"The Actros, meanwhile, are reliable and cost-effective to operate, while our drivers are out on the road for several nights a week so appreciate the space and comfort of the big, flat-floored MegaSpace cabs."
Several of the Actros that work on John Miller's Argent Energy contract have been converted to run on the bio-diesel specialist's own fuel, which is produced from used cooking oil and animal fat, with full support from Mercedes-Benz.
"We worked closely with Ciceley and Mercedes-Benz on the conversions, something no other truck manufacturer was prepared to approve and support at the time," continued Mr Carson.
John Miller Transport was founded in 1979. The name disappeared in 1997 when the company was sold to Securicor, but then revived with the establishment of John Miller Limited in 2000. Initially set up to provide haulage services to the emerging timber industry in the region, the firm expanded into general haulage when it acquired the Sandysike site in 2002. Miller's general haulage division is mostly concerned with the movement of construction materials in the UK.
Mr Carson added: "We recently decided to limit our trucks to 52 mph, and this has provided a clear improvement in fuel consumption. Plus, it's arguably more relaxing to sit back at 52 mph rather than be nose-to-tail at 56."
For more information, visit johnmillerlimited.co.uk.