SGN entrusts Mercedes-Benz Atego with emergency pumping role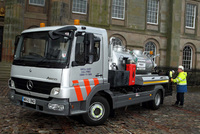 Impressive environmental credentials and a proven record of reliability meant that when Scotia Gas Networks (SGN) needed new chassis on which to mount refurbished siphon tanks, the Mercedes-Benz Atego was the obvious choice.
The UK's second largest gas distribution company is now running seven of these highly specialised trucks; all are based on 7.5-tonne Atego 816 models with the exception of a single 13-tonne Atego 1324.
Key to the appeal of the Atego was its Motor Stop Start (MSS) system. This boosts fuel economy and cuts emissions simply by switching off the BlueTec Euro 5 engine whenever the vehicle is in neutral and stationary for three seconds – for example in heavy traffic or at lights – then switching it back on again automatically as soon as the driver depresses the clutch.
Also important was the Atego's low frame height, which allows easy access to both the cab and pumping equipment by SGN's operatives, and full complement of active and passive safety features – in addition to the standard package SGN has equipped its new trucks with optional driver airbags.
The chassis were supplied by Westbury dealer Rygor Commercials, an established supplier not only to SGN but also to its biggest single shareholder, the leading energy provider SSE.
The siphon tankers have a crucial role, being deployed on an emergency basis by SGN to pump water from its gas network when ingress incidents occur as a result of, for example, burst water pipes.
They are strategically located across the company's two areas of operation: Scotland Gas Networks serves 75 per cent of Scottish households, including those in Edinburgh and Glasgow, while in England it operates at Southern Gas Networks in the south and south-east, including all London boroughs south of the Thames, to the east as far as Dover, west to Lyme Regis and north to Banbury and Milton Keynes.
SGN's siphon tanks were previously mounted on non-Mercedes-Benz chassis but these were ageing and breakdowns were becoming an issue. As well as being a more environmentally-friendly solution, the decision to strip completely and upgrade the 2,273-litre (500 gallon) single-compartment tanks – a task undertaken by the original manufacturer, Solihull-based specialist Whale Tankers – rather than buy new ones has saved SGN some £130,000.
"These vehicles are 'business critical' but the recycled tanks are as good as new and will last 20 years or more," explained the company's Commercial Fleet Manager Paul Davies.
The trucks are fitted with uprated front axles and vertical exhausts, so SGN's operatives do not have to contend with gas emissions at ground level during pumping operations. They are also equipped with live PTOs with 'power on demand' engine control, making operation as efficient and quiet as possible.
"We know from experience that Mercedes-Benz vehicles offer the reliability and durability we need, as well as being inherently clean and fuel-efficient," Mr Davies continued. "These attributes are further enhanced by the Atego's MSS system, which further cuts our fuel bill and reinforces our 'green' credentials."
Rygor Commercials also arranged delivery of the tanks to Whale Tankers, where they were modified and remounted, and the pumping equipment overhauled, prior to shot-blasting and painting.
SGN was established in 2005 and has bought vehicles from Rygor for use in a variety of roles since the outset. As well as Atego rigids, the dealer has also supplied Mercedes-Benz Axor chassis at 18 and 26 tonnes gvw, 7.5-tonne Fuso Canters and a fleet of 5.0-tonne Mercedes-Benz Sprinter chassis cabs which are fitted with ECO-Start systems, the van equivalent of MSS.
For more information, visit sgn.co.uk.