Citroen brings DS style and innovative speed to Goodwood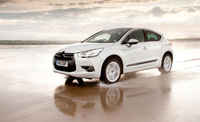 Citroen has prepared an eclectic and exciting mix of vehicles for its participation in this year's Goodwood Festival of Speed (30 June - 3 July).
On sale in the UK from 4 July, Citroen's new DS4 brings a unique blend of elegant coupé styling, 5-door versatility and a commanding raised stance to the market. Already voted the 'Most Beautiful Car of the Year',this will be the first opportunity for the UK public to see DS4 on display. Visitors will be able to drive the car at the Moving Motor Show on 30 June.

The 207hp DS3 Racing will also be available for test drives during the Moving Motor Show. With only 200 examples planned for the UK, the special edition hot hatch takes just 6.5 seconds to hit 62mph. With a top speed of 146mph, DS3 Racing is sure to be another crowd pleaser.

Shining a spotlight on the future, the Citroen Survolt all-electric racing car concept will be based in the Supercar Paddock and will tackle thehill climb twice a day. This carbon fibre coupéis capable of exceptional performance with a top speed of 260kph (162mph) and a 0-100kph (0-62mph) time of under five seconds. The concept's twin 140kg lithium-ion batteries each boast a 31kW capacity, which allows Survolt to cover 200km (124 miles).

As a further nod to the cars of tomorrow, the award-winning Citroen Hypnos concept will take its place on static display in the FoS-TECH Pavillion. Hypnos is an elegant diesel-hybrid that combines the latest technology with striking lines and a vibrant interior design.

On the Forest Rally Stage, Citroen will be represented by its successful new DS3 R3 rally car. Developed by the six-time World Championship-winning Citroen Racing team, the turbocharged 1.6-litremodel provides a stepping stone to top-flight competition for young drivers aspiring to follow in the footsteps ofCitroen's Sèbastien Loeb.

2009 British Junior Rally Champion, Marty McCormack, will be putting DS3 R3 through its paces. The 25-year old from Draperstown, Northern Ireland, currently drives the DS3 R3 in the British Rally Championship.

To complete the motorsport theme, a static example of the 300bhp DS3 WRC, which has already won five rallies in 2011, will also be on display on the Citroen stand.