Unique Audi R8 Spyder reflects well on Sir Elton's party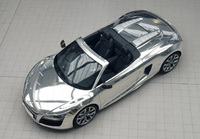 Guests at this year's White Tie and Tiara Ball, which as always takes place at the home of Sir Elton John and his partner David Furnish, will need to empty their jewellery boxes to avoid being outshone by the very special R8 sports car donated by Audi for the star-studded event. A dazzling and unique mirror-like chromed finish has been applied to the 194mph open-top sports car especially for the occasion - which takes place on Thursday June 23rd - to attract the highest possible bids in the auction that raises hundreds of thousands of pounds for the Elton John Aids Foundation (EJAF) annually.

"Sir Elton John's fundraising ball really is a golden ticket event that is as glamorous as it is hugely effective in fundraising terms," commented Jeremy Hicks, Director of Audi UK. "We are delighted, and enormously proud, to support it for a ninth year with the donation of what is arguably our most fittingly glamorous model," he added.

The R8 Spyder features a fully-automatic lightweight fabric hood that adds wind-in-hair intensity to the already extreme driving experience delivered by the lightweight aluminium quattro-equipped super car. The donated model, combining the exceptional ten-cylinder, 525PS petrol engine with manual transmission and normally priced at £117,710 OTR, can top 194mph and blast to 62mph from rest in just 4.1 seconds.

The Elton John AIDS Foundation (EJAF) was established in 1993, and is amongst the 10 largest AIDS grant-making organisations in the world, currently managing over £14 million in programmes across 15 countries supporting thousands of men, women and children with life-saving medication, as well as information, nutrition, education, shelter and support. The White Tie & Tiara Ball, now in its 13th year, is the EJAF's foremost fundraising event, and has been supported by Audi with special auction lots for the past eight years.