Audi R8 Spyder takes two for Elton John AIDS Foundation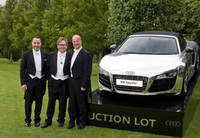 The Audi R8 Spyder proved such an enticement to bidders last night at the White Tie & Tiara auction in aid of the Elton John AIDS Foundation (EJAF) that Audi UK submitted a second car to go under the hammer, helping to contribute £620,000 to the charitable organisation.

A striking 'chrome-finish' version of the 194mph soft-top sports car was initially donated, and was sold for £250,000, but interest was so strong that a second example was provided by Audi UK. This too attracted a high value bid, and was then generously submitted a second time for auction, taking the final total raised by the two cars to £620,000.

The auction takes places during the annual White Tie & Tiara Ball, which is always held at the home of Sir Elton John and David Furnish. Each year it raises millions of pounds for EJAF, which currently manages over £14 million in programmes across 15 countries supporting thousands of men, women and children with life-saving medication, as well as information, nutrition, education, shelter and support.

"We are absolutely delighted to have been instrumental in raising such a magnificent sum for Sir Elton's charity," commented Jeremy Hicks, Director of Audi UK. "We couldn't, of course, have done so without the incredible generosity of Sir Elton's guests, to whom we owe an enormous vote of thanks" he added.