Kids fail their parents on driving test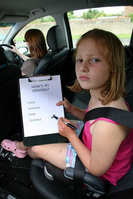 Nearly two-thirds (63 per cent) of children admit their parents are aggressive drivers and 13 per cent say are scared or embarrassed by mum and dad's driving, according to new research.

The survey by Continental Tyres, asked kids to report what they witnessed and to say how they felt about their parents driving – and the results might make mum and dad think twice about their behaviour.

When 1,000 children between the ages of four and 16 were polled, three-quarters said their parents shout at other road users and one in five reported that their 'responsible adult' used a mobile phone while driving despite this being banned in December 2003.

The back-seat view revealed that 40 per cent of youngsters get upset when mum or dad loses it behind the wheel and one in three gets embarrassed.

The poor driving skills prompt 22 per cent of children to slump down in their seat to try to hide and one in five have told their elders to improve their driving, despite 14 per cent saying they were too scared to tell their parents that they were unimpressed.

Tim Bailey, safety expert for Continental Tyres said: "There are some serious failings highlighted here revealing poor driving practices and lack of courtesy by millions of motorists.

"What compounds that situation is the impact it has on the children. Nearly one in ten said they had gripped the seat in response to the speed of their parents driving.

"The assumption might have been that driving with a child in the car would prompt greater care and attention, but this evidence suggests not, and poor driving habits are potentially being ingrained in future motorists."

In the study 23 per cent of the children said that they had been in an accident with either mum or dad driving.

According to four in five kids (80 per cent), dad is more likely to speed. However mum is nearly three times more likely to be their 'taxi' ferrying them to school, activities and friends.

It appears that the combustible mix of mum and dad can be worse when both are together. Two-thirds of parents argue about each other's driving with their offspring rating them both as better drivers when their partner was not in the car.

Tim Bailey of Continental commented: "Parents are normally very aware of the need to be good role models; this survey reminds them of the need to continue when they get behind the wheel."

Youngsters are also underwhelmed by the car their parents drive – with 42 per cent wishing they were chauffeured in a cooler vehicle.

Whilst most kids favour a sports car or 4x4, a surprising 14 per cent of those aged four to seven want the family car to be a monster truck and another seven per cent want a camper van.

It is not all bad news for mum and dad. When asked if their parents drove them around enough for their activities and to see friends, a reassuring 84 per cent said yes.

The offspring also loyally rate their parents as better drivers than their friend's parents with 30 per believing them to be better on the roads and only seven per cent worse.

For more information on driving and tyre safety, visit continental-tyres.co.uk/passenger.