Volvo D5 diesel provides balance for company car drivers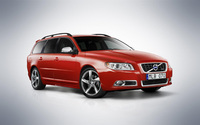 Volvo's newly enhanced D5 range has tipped the scales rebalancing environmental and performance factors despite larger engine sizes.

Sometimes a higher performing and inevitably bigger engine is what's required from a company car which would usually compromise environmental concerns as well as attracting higher fuel costs and tax liability. Volvo's latest D5 diesel range, however, steers a path through these conflicting positions providing a number of models with impressive fuel economy and CO2 emissions.

The upgraded versions of the Volvo V70, XC70 and S80 are the first in the model range to feature sharpened versions of the five-cylinder D5 turbo-diesels which boost performance and torque from 205 hp/420 Nm to 215 hp/440 Nm while at the same time reducing fuel consumption by as much as eight percent.

"We have made these vehicles more enjoyable and as cost efficient as possible to drive," explains Selwyn Cooper Volvo UK's national sales manager. "With that comes lower CO2 which means company car drivers have a widened choice of vehicles powered by larger engines without the expected hike in the amount of tax they would have to pay."

Fuel consumption (EU Combined) of a Volvo S80 D5 is now an impressive 57.7 mpg (129 g/km of CO2) with manual gearbox and start/stop, placing it in the 18% BIK category. The corresponding figures for the automatic version are 44.1 mpg (159 g/km of CO2). The figures for a Volvo V70 are 55.4 mpg (134 g/km) with the manual gearbox and 45.6 mpg with the automatic (164g/km). Fuel consumption in the XC70 D5 AWD manual is 50 mpg (149 g/km) in the AWD version with manual gearbox and 41.5 mpg (179 g/km) with the automatic.

The Volvo V70, XC70 and S80 have been upgraded with a number of features including driveline, interior and exterior equipment including the latest user-friendly Volvo Sensus infotainment system, and are available to order now with on-the-road prices for D5 versions starting from £30,100 for the V70 D5 (215hp) ES Start/Stop; £31,135 for the S80 D5 (215hp) SE Start/Stop; and £32,765 for the XC70 D5 AWD (215 hp) ES Start/Stop.