Subaru Pro-R Time Attack Team dominate Brands!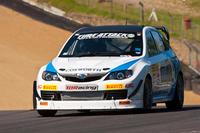 The Subaru Pro-R race team managed to rack up their best ever UK Time Attack result at a packed Brands Hatch, during the most recent round of the competition.

Despite the team having to burn several gallons of midnight oil to make the event, thanks to a full engine rebuild being required after ECU problems during testing, driver Jon Mathers found instant form to blitz to the top spot in Club class on day one, and second on day two of the meeting. With 16,000 Time Attack fans to cheers him on, it was the best showing yet for the Cross Roads garage prepared machine and a superb example of how the new Pro-R range of tuning components can perform under pressure.

The car was sporting some exciting new enhancements for Brands, including a lightweight, bespoke Scorpion Exhausts extraction system, which managed to net the team more power, despite being under the series' strict noise regulations as well as improved cooling and lightweight body panels by the team's technical partners at ABW.

Saturday started with damp conditions, but the Cross Roads team quickly found the ideal set-up and a confident Mathers simply went out and posted ONE hot lap in a move that saw him go straight to the top of the leader board, a full second ahead of the opposition. A position that would remain unchallenged for the rest of the race.

On a high, the team ran a similar set up for the Sunday race, setting fastest sector times throughout warm-up and qualifying. During the session, Mathers was flying, but suffered bad luck when a combination of traffic and a series of red flags saw him only able to post second, despite showing the fastest 1st sector time of the Club AWD class. With track temperatures spiking and the tyres dropping off, the talented wheelman had to settle for the second step on day two.

As well as taking a couple of well-earned trophies back to Cross Roads' burgeoning trophy cabinet, Mather's textbook drive also netted a new Pirelli lap record of 53.505 seconds.

On accepting his accolades, Mathers was quick to thank those who got him there. 'This one is for everyone who worked so hard for Brands,' he beamed, 'RCM, who stayed up until 6am on the Friday prior to the race, dynoing the car, Joe and Lee from Cross Roads, Mark at TDR and of course, Subaru UK for their assistance with parts. A massive thanks to you all!'

The next Time Attack round will be at Cadwell Park on the 31st of July. With Mathers clearly on sparkling form – and the car seemingly bomb-proof, bank on more silverware heading back to Warwickshire soon!

For more details on the Pro-R range, visit pro-r.co.uk.
For more details on the Cross Roads team, visit subaruvehicles.co.uk.