Green go the Open's Lexus golfers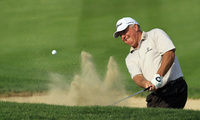 The progress of two top Open Championship players to and from the Royal St George's links this week will be every bit as hushed as the greens of the famous course, as they will be using the Lexus RX 450h as their official transport. The full hybrid luxury crossover is noted for near-silent performance when running in all-electric EV mode, with the additional benefits of zero petrol consumption and tailpipe emissions.

Lexus has provided the vehicles for Mark O'Meara, one of the sport's most accomplished players, who counts the 1998 Open and Masters titles among his 16 PGA victories, and his fellow American Nick Watney, currently 10th in the Official World Golf Rankings.

Both players are Lexus brand ambassadors in the USA, together with Charles Howell III (USA) and Australian Jason Day, who are also competing in The Open.

As well as working with players at the pinnacle of the game, Lexus continues to support the grass roots with the annual Lexus Golf Challenge. This year, 25 Lexus Centres across the UK have hosted golf competitions or sponsored events at local clubs. From each of these competitions teams of four players qualified for regional finals contested at three of Britain's most prestigious golfing venues: Wentworth, Woburn and Royal Birkdale. As well as receiving Lexus hospitality, the teams took part in a "beat-the-pro" competition with Bernard Gallacher, the three-time Ryder Cup European Team Captain.

Regional winners will progress to the "Monty Day" final, with the opportunity to meet and play with leading international player Colin Montgomerie at the Kingswood Golf and Country Club in Surrey in October.