It's game on for Jeep in big country show debut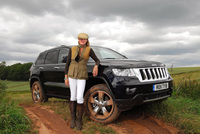 The new Jeep Grand Cherokee is to make its first ever appearance at the CLA Game Fair, the world's largest country sports and pursuits event.

With more than 140,000 visitors from across the globe, and incorporating the UK's largest shooting and fishing shows, the Game Fair, which this year is situated at Blenheim Palace in Oxfordshire, is an ideal venue for the new Jeep flagship, which was launched in Britain last month.

It will be driven there by Claire Zambuni, owner of The Shooting Society and The Covert Girls, who is recognised as one of the UK's leading ladies in shooting, and is listed in The Field magazine's 100 Best Shots Ever. Claire is a new ambassador for the Jeep brand and drives a Grand Cherokee Limited.

Designed on a new platform to offer the driver premium on-road performance coupled with legendary capability off-road, the new Jeep Grand Cherokee has significantly lower emissions and improved fuel consumption figures when compared with its predecessor.

Its new 3.0-litre V6 CRD diesel engine powers the car from 0-62 mph in just 8.2 seconds and goes on to a top speed of 126 mph, yet the 237bhp unit returns 34.0 mpg on the combined cycle.

The Grand Cherokee range starts at £36,795 OTR for the 3.0 CRD V6 Limited, rising to £43,995 for the 3.0 CRD V6 Overland.

"I am delighted to have the opportunity to drive a new Grand Cherokee," says Claire Zambuni, who is a council member of the BASC (British Association for Shooting and Conservation), Chairman of the London BASC Social Committee, and a member of The Worshipful Company of Gunmakers.

"Grand Cherokee's eye-catching design is stunning, with a wonderful combination of size, versatility, comfort and superb four-wheel drive capability. All of these elements are vital in a car for field sports, and at a price that makes sense for such a good combination of a city and country vehicle. It will be a top choice for people with outdoor jobs like me."

The CLA Game Fair 2011 will be held from 22-24 July.