Mercedes-Benz Actros are welcomed at John Guest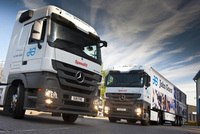 John Guest is celebrating 50 years of innovation and commitment to quality – how appropriate then, that the two premium specification tractor units in which it has just invested were built by a manufacturer that shares the same values.
Both are 4x2 Mercedes-Benz Actros 1844 models with flat-floored MegaSpace cabs and were supplied by dealer Rossetts Commercials.
John Guest is based in West Drayton, Middlesex, and leads the world in the production of 'push-fit' plastic fittings for the plumbing and heating industry, as well as a host of other sectors such as automotive, air and pneumatics, drinks dispensing and fibre optics.
The winner of numerous awards that recognise its design and engineering excellence, and export sales successes, John Guest runs a fleet of 15 commercial vehicles, every one of which wears a three-pointed star.
As Transport Manager Graham Bruce revealed, the family owned and managed company's allegiance to the Mercedes-Benz brand dates back many years.
"I joined this business in 1996," he recalled. "We were an all-Mercedes-Benz operation back then, and had been for as long as anyone could remember."
In those days the company ran only a handful of vehicles, and nothing heavier than a 7.5-tonner. Today, in addition to a pair of 3.5-tonne Sprinters and three 7.5-tonne Ategos, the John Guest fleet comprises four Actros rigids – two 18-tonners and a pair of 26-tonners – and six Actros tractors, all of which are 4x2 models plated for operation at 38 tonnes gcw with the exception of a single 44-tonne 6x2 unit.
The trucks are used to deliver John Guest's extensive range of products to customers nationwide, among them leading DIY retail chains and builders' and plumbers' merchants.
The expansion of its fleet over the last 15 years reflects not only impressive sales growth but also the determination of directors Barry, Robert and Tim Guest, whose late father founded the business in 1961, to retain control of the distribution function.
"We manufacture a high quality product and the Guest family believes firmly that this should be delivered with the best quality of service," continued Mr Bruce. "That means ensuring that we always honour our commitments and to do that we need the best equipment, which explains why we put our trust in Mercedes-Benz.
"Its vehicles have always been outstandingly reliable and cost-effective to operate, with excellent back-up. But more than that – and this applies particularly to the latest generation of Mercedes-Benz trucks – they are also very driver-friendly, with the new automated gearboxes winning a lot of praise for their smoothness and efficiency."
Founder John Guest was a self-taught engineer who invented a series of 'snap-fit' tubes and other components. In addition to its West Drayton headquarters, the company has two other production facilities in Maidenhead, Berkshire, and Launceston, Cornwall.

For more information, visit johnguest.com.