Don't let breakdown blight your British 'staycation'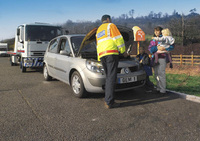 In the aftermath of the financial crisis, holidaying in the UK, or rather 'staycationing' has become wildly popular, especially for families with children. Whether it's walking in the Lake District, learning to surf in Cornwall, glamorous camping or 'glamping' as it is now known in the New Forest, or playing on the beach in Brighton, the traditional British holiday is back.
However, on a relatively relaxed summer holiday where you don't have to deal with busy airports or worry about making sure your passport is packed, it is easy to overlook other important travel aspects including whether or not your car is ready for the long journey.

GEM Chief Executive of GEM, David Williams, MBE, says: "More and more people are planning to take their summer break in the UK which means families are setting out on long journeys on unfamiliar roads in cars that have been heavily loaded. Many have treated car maintenance as a low priority in these difficult times and we tend to over-rely on the reliability of modern vehicles. It is extremely important that drivers realise the necessity to ensure their cars have been fully checked, as there is a real danger in breaking down on a strange road with all the family on board and a car full of luggage with children excited to get to the destination."

GEM Motoring Assist, voted the UK's Number One for roadside assistance, is committed to helping drivers make their journey run as smoothly as possible and GEM's experience and knowledge has proved essential for families throughout the years. The company, which also has a not-for-profit road safety charity arm, has put together some top tips to help motorists along the way.

Generally:
Always prepare your car before leaving on a long journey. Check tyres / brakes / windscreen wash / lights / oil / water levels prior to setting off.
If towing a caravan, ensure you carry out suitable checks for its roadworthiness too.
Keep an eye on your petrol levels, especially if driving in the countryside and you are unsure where the next filling station will be. Try to never let the gauge fall below one quarter.
Make sure you have adequate car breakdown cover that will get you to your destination with minimal disruption in the unfortunate event of a breakdown – and make sure you have your emergency call out number with you.
Plan your journey so you know where you are going, taking a map or GPRS system with you plus telephone number for your destination in case you do get lost or break down.

In case of a Breakdown
Breaking down on the side of the road can be extremely hazardous. Consider your own safety first – if possible get your vehicle off the road and ensure all passengers are safe.
Place a warning triangle at a suitable distance prior to the scene and switch on your hazard lights.
Make sure every passenger wears a reflective jacket or tabard.
If it's warm and you wish to leave the car, exit with extreme caution on the side of the car away from the traffic. Find somewhere to sit that is a good distance away from the road and fumes and where you can keep an eye out for help to arrive.
Of particular note, in any breakdown situation don't forget to tell the breakdown company if you have children on board.

On a Motorway:
Switch on your hazard lights and pull onto the hard shoulder as far as possible and turn your wheels away from the road – do not use a warning triangle.
You must leave the vehicle from the left hand doors and keep well away from the carriageway.

GEM has a FREE information guide "Motorist Breakdown and Emergency Guide" which is available free of charge by visiting motoringassist.com/leaflets and GEM recommends everyone keep a copy in their glove box to read carefully before taking action in a breakdown situation.

David comments: "With this new 'glamping' craze, the number of caravans and trailers on the roads is increasing and it is very important people are aware of how to tow caravans correctly and make sure they are road worthy. Our website features a whole host of safety measures and also tips on buying a caravan that we hope will benefit motorists who are thinking about buying one for the first time."

David Williams MBE, continues: "We hope drivers find our tips helpful and that they might help avoid a few unnecessary breakdowns too. We do, however, pride ourselves on our service and hope that should the worst happen, we can help our members out of a difficult or even dangerous situation as quickly and comfortably as possible."

GEM has three levels of recovery services to suit all needs and pockets including car and caravan recovery. These include; Recovery Extra, Recovery Reclaim and Roadside - full details of all of these can be found on GEM's website motoringassist.com, along with other useful safety and driving hints and tips.