Skoda is the UK's most satisfying car brand to own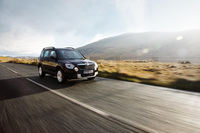 The Czech manufacturer has ranked number one in the 2011 ownership survey by highly respected consumer publication Which? Car. Skoda scored a top-ranked satisfaction rating of 88.4 per cent, putting it ahead of every other car manufacturer in the survey.

As well as being named the overall most satisfying brand, four Skoda models made it into the survey's top 10 products – the multi-award winning Yeti (4th); the flagship Superb Estate (6th); and two generations of the Superb Hatch (9th and 10th). All of them achieved approval scores higher than 94 per cent, an exceptional performance.

Both hatch and estate derivatives of the Fabia and Superb were also highlighted as 'best buys' in the survey.

Which? CarEditor Richard Headland commented: "If you really want to know about cars, ask the experts – the people who drive them every day. Motorists have told Which? Car that they love practical, good value cars, exemplified by Skoda."

Robert Hazelwood, Skoda UK Brand Director, commented: "We are delighted with the survey results. It shows just how highly Which? readers rate our products and services. We're very proud of the excellent engineering, industry-leading customer service and great value in every one of our cars, and pleased we're giving people what they really want from the car ownership experience."

The Which? Car survey is the largest of its kind in the UK – and has been for the past five years – with more than 63,000 new and used cars rated. Between December 2010 and March 2011, 52,563 people told Which? Car about the 63,727 cars they owned.

The survey asks owners to rate out of five how satisfied they are with their cars, and how likely they are to recommend them to friends. By combining the responses, Which? Car awards a Customer Score out of 100 per cent.