Superb outperforms expectations in January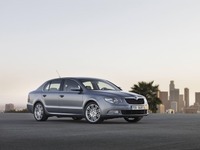 Skoda has announced a strong performance for its new Superb model in January. With sales performing at 107% of target the Czech manufacturer is bullish about the future for the model. It has increased its fleet sales forecast for the model by over 40% to 2,000 vehicles this year.
Commenting on the result Martin Burke, Head of Fleet Sales at Skoda said: "We are very encouraged by the response to the Superb from fleet operators. With strong predicted residual values contributing to excellent wholelife costs it is clear the Superb is the right product for this market. Our customers are seeing the value with the top spec Elegance model accounting for 50.2% of all Superbs sold."
The Superb is fast becoming the choice of operators and users looking for luxury at a reasonable cost. With the recent launch of the GreenLine edition, Skoda expects its market share to continue to expand.
Until the end of March 2009, the Superb GreenLine is available to fleet customers for just £220 a month for a three year period or 10,000 miles per annum. The GreenLine offers exceptional fuel efficiency, up to 67.3mpg on extra urban, helping businesses keep cost down in ever tightening market conditions.
Unlike other competitor rentals, all models in the range (excluding GreenLine) include metallic paint – allowing fleet customers to get more car for their money.
Other headline business sales deals include:
Octavia Ambiente hatch 1.9 TDI PD 105 bhp from £219 per month (including metallic paint; 2008 model)
Octavia vRS hatch 2.0 T FSI 200 bhp from £275 per month (including metallic paint; 2008 model)
Superb GreenLine 1.9 TDI PD 105 bhp DPF from £220 per month
Superb S 1.9 TDI 105 bhp from £225 per month (including metallic paint)
Superb SE 1.9 TDI PD 105 bhp from £260 per month (including metallic paint)
Superb SE 2.0 TDI 140 bhp from £275 per month (including metallic paint)
Superb Elegance 2.0 TDI PD 140 bhp from £305 per month (including metallic paint)
For information on other mileages and terms available, visit skoda.co.uk