Samsung launches the ultimate business notebook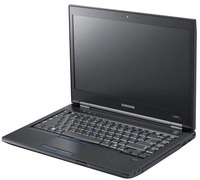 Samsung launches the Samsung Series 6 business notebook fully equipped with high security and superior durability features for ultimate peace of mind.
The Samsung Series 6 offers advanced security through a wealth of innovative features. With its Intel vPro technology businesses can remotely manage the notebook even if it is switched off. The device also has a secure biometric Fingerprint Reader, to prevent sensitive data being accessed if the notebook is lost or stolen, and a Trusted Platform Module (TPM) that encrypts files and folders for added security.
For ultimate durability, a strong Duracase ProMG chassis protects the notebook with a magnesium back which can withstand up to 1000kg of force on the display enclosure, and the anti-shock HDD with free fall sensor means the notebook can survive accidental drops over 76cm. The notebook also features a spill-resistant keyboard that protects against fluid damage, and solid metal alloy hinges which last much longer than regular notebooks.
"The Samsung Series 6 notebook is an important addition to our notebook portfolio as Samsung strives to become one of the top three notebook vendors by the end of 2012. This high performance device hosts sophisticated security features such as fingerprint recognition, data encryption and powerful anti-theft software which makes it ideal for business use," said Damian Cusick, General Manager, Computing, Samsung UK and Ireland.
"At Samsung we manufacture up to 75% of our notebook components, using stringent quality control so we are confident our products offer maximum performance and reliability," Damian continued.
Additionally, the Samsung Series 6 notebook comes packed with user-friendly features including a responsive ergonomically designed keyboard with optimised key sizes and spacing for easier more comfortable typing, and a large touchpad.
The notebook is complete with next generation Intel Core i5 processor and Windows 7 Professional, together with intelligent battery charging technology to maintain power for longer. The battery retains 80% of its capacity for three times longer than a typical notebook battery – lasting for around 1000 charges. Further to this, the notebook's anti-reflective screen is up to 40% brighter than normal notebook displays to enable an improved viewing experience.
To help save time, the Series 6 can connect to a range of other devices, such as a monitor, regular keyboard, mouse, printer and extra ports, with one simple click using the integrated docking station connector so there's no mess of cables. Users can also rapidly backup and share information using a high-speed USB 3.0 connection, which is 10 times faster than USB 2.0, and can quickly access data from other devices with the integrated Express Card 34mm slot.
The Samsung Series 6 business notebook is now available from RRP £625 ex VAT. Samsung has partnered with Computer 2000, Westcoast, Micro-P, Ingram Micro and SCC to deliver the notebook range to B2B resellers.