Volvo Polestar signs Gabriele Tarquini for STCC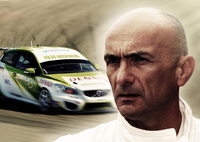 Following James Thompson's departure from the team earlier this week, Volvo and Polestar have signed World Touring Car Champion Gabriele Tarquini to drive for the Volvo Polestar Green Racing team in the Scandinavian Touring Car Championship for the next two races.

"We are very happy to have Tarquini on board. On top of his previous track record with Formula 1, titles in BTCC, ETCC and WTCC, what has impressed us is how good of a job he is doing in the WTCC this year. We look forward to apply his talent in STCC now and hope he will be able to score important points for us in the STCC team championship" says Christian Dahl, Team Manager for Volvo Polestar Racing.

Gabriele Tarquini will drive the Volvo C30 DRIVe race car, the same car that Robert Dahlgren drives for Volvo Polestar in the WTCC, but with a naturally aspirated engine and powered by bio ethanol E85. Volvo Polestar are reigning STCC team champions and won also both the STCC team and driver championship the year before last with this car and with driver Tommy Rustad. However, Volvo Polestar is very keen to keep expectations at a realistic level.

"Tarquini will drive the two races at Karlskoga and Jyllandsringen, the two worst tracks for front wheel drive cars on the calendar and where a top-five result is an achievement. On the other hand, these extreme circumstances are ideal to test how quick and well Tarquini and Volvo Polestar can align as a team, which is of obvious interest as our motorsport program may evolve" says Derek Crabb, Executive Director for Motorsport at Volvo Cars.

As the clock ticks for Karlskoga, Gabriele Tarquini is preparing for the job with a few days of vacation.

"I really look forward to this. I have raced closely against Volvo Polestar and the C30 in the WTCC this year so I know I am joining a highly professional team with a very good car and serious ambitions. Also, I have raced most types of racing cars and for several different brands in many different international and national championships, but both Volvo and the STCC will be two firsts for me. I am very excited" says Gabriele Tarquini.

For more information, visit volvopolestarracing.com.