Get on the property ladder with FirstBuy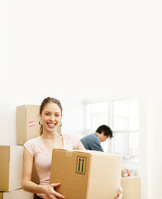 Are you a first time buyer fed up of living with mum and dad or desperate to get out of the rental rut? Taylor Wimpey Southern Counties could have the answer, as on Saturday 20th of August the leading house builder is hosting a FirstBuy event, at selected developments in Portsmouth, where all your first time buyer questions will be answered.
Being held at Scholars Walk in Portsmouth and Wellington Park at Dukes Meadow in Waterlooville, these events are designed to demonstrate to struggling first time buyers that there are options available to help them in their quest to home ownership, as well as clearing up the confusion surrounding the real cost of getting onto the property ladder. A financial advisor will also be on hand to answer any questions surrounding the governments newly launched Firstbuy scheme which is on offer on selected homes in Portsmouth.
Sarah Pasco, regional sales director for Taylor Wimpey Southern Counties, said: "FirstBuy is a brand new scheme recently launched by the government and provides a fantastic way of helping first time buyers own their own home. We speak to numerous first time buyers that are totally confused when it comes to getting onto the property ladder – many simply don't know where to start. Not only is there an abundance of news reports on the property market to make sense of, most first time buyers find the thought of saving for a deposit quite daunting. Our FirstBuy events are designed to cut through the jargon and really help people understand that owning your own property can be a lot easier than you think."
Taylor Wimpey is offering FirstBuy on a small number of homes at Scholars Walk where a two bedroom, two bathroom 'Regius House' apartment can be snapped up for just £130,000 with a deposit of only £6,500. Under the scheme, at Wellington Park, a two bedroom Denmead maisonette can be yours for just £175,000 with a 5% deposit of £8,750.

FirstBuy works through a joint loan of 20% from the Homes and Communities Agency (HCA) and Taylor Wimpey, which means that eligible purchasers only need put down a 5% deposit and obtain a 75% loan-to-value mortgage. The loan is repayable at the end of the 25 year mortgage term or when the property is sold. To be eligible, purchasers must be first time buyers and the total household earning should be less than £60,000.
Sarah adds: "There is only a limited time to buy using FirstBuy, so if you're interested in purchasing your first home, or would just like to talk to a financial advisor, visit one of our developments hosting the FirstBuy event on the 20th and see how simple owning a home can be."
For further information call Scholars Walk or Wellington park at Dukes Meadow, visit taylorwimpey.co.uk.