Brits get lippy with 40% rise in semi-permanent lip treatments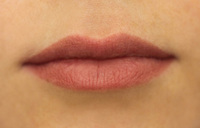 With celebrities such as The Only Way is Essex star, Lauren Goodger, using semi-permanent make up to achieve facial perfection, it comes as no surprise beauty conscious Brits are lining up to follow suit. Research conducted by Tracie Giles, Bespoke Permanent Make Up practitioner, has attributed the increased demand for treatments to new advances in application techniques and technology developments in mineral pigmentation, which are designed to enhance the lips, while creating an overall natural look.
These procedures include the exclusive Gloss&Go lip treatment, a new advanced wave of micropigmentation for the lips where a subtle mineral pigment is infused into the lip to give a crisp lip border. The mineral pigment is then feathered into the body of the lip to give the illusion of fullness. Other lip procedures include the Lip Blush and Full Lip Tint, which gives the lip a soft wash of colour in a mineral pigment that is hand blended to suit individual needs.
In addition to lip enhancements, eyebrow tattooing has also seen a 22% increase from busy mums, career women and the over 50s, between 2010 - 2011. This figure is expected to see further growth as the procedure becomes increasingly more accepted by women in the UK with the introduction of new treatments such as the revolutionary new 3D Brow technique, which has already attracted celebrity fans such as Lydia Rose Bright, Andrea McClean and Arlene Phillips.
The 3D Brow technique, as offered by Tracie Giles Bespoke Permanent Make Up, uses state of the art digital technology and mineral pigments that are infused into the epidermis of skin under microscope. Life like 'strokes' of mineral pigment are implanted into the brow to create the illusion of real hair ensuring a fully symmetrical and flattering set of eyebrows. This treatment defines the brow and in turn rejuvenates the face. The 3D Brow technique is proving popular for those with and without natural brow hair.
Tracie Giles, Managing Director at Tracie Giles Bespoke Permanent Make Up comments: "The significant growth behind semi-permanent make up procedures such as lip enhancements and 3D brow treatments is to be expected. The days of overtly augmented features are numbered as more and more women turn to semi-permanent make up to achieve a 'natural look'. Now through advancements in semi-permanent make up techniques, we can offer women a range of procedures that will not distort features, but simply enhance natural assets to their full potential."
For further information about any of the treatments mentioned above, visit traciegiles.co.uk or permanentmakeup-london.co.uk.