Japanese tea ceremony room opens at Hotel Okura Macau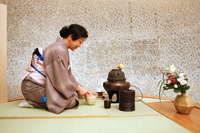 Shirai Yayoi has been a Japanese tea ceremony master for 50 years. Shirai can now be found performing the ancient ritual at the 5 star Hotel Okura Macau - the first hotel in Macau to have a tea ceremony room.
The art of performing a Japanese tea ceremony called 'Otemae' and has been introduced by the Japanese owned Okura Hotel to increase awareness of this long-standing art to locals and guests. It is believed to originate in the 9th century by a Japanese Buddhist Monk who had returned from China bringing the first tea to Japan. It's now difficult to find the original powdered green tea known as 'matcha' in China so the hotel is hoping that it can reintroduce the tradition to the area.
The Hotel Okura Macau opened in May 2011 and is located in the brand new Galaxy Macau resort which is situated in the Cotai district between the islands of Taipa and Coloane.
The hotel's Yamazato restaurant provides four sessions of the 40 minute Japanese tea ceremony a day, as it serves Kaiseki meals, a traditional multi-course Japanese lunch or dinner in which the tea ceremony is an important element.
Until 15 September 2011 a special Okura Macau Opening Celebration package costs from £156 per room per night based on two people sharing a deluxe room at Hotel Okura Macau and includes breakfast, access to the Grand Resort Deck with use of the world's largest skytop wave pool, the hotel gym, indoor swimming pool, stream room and sauna plus late check out until 14:00 and a voucher for 300 Macau Pataca per person (approx. £23 per person) to use in three of the hotel's restaurants or bars. Stay two nights and get a complimentary upgrade to the Okura Club floor with all the additional benefits including afternoon tea and evening cocktails. All offered subject to availability.
For further information on Hotel Okura Macau, visit hotelokuramacau.com.