Start your Canon 'EOS Adventure'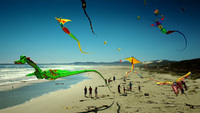 Canon Europe is launching a pan-European campaign to support the EOS 600D - a compact, lightweight DSLR - designed to inspire photographers of all levels to start their photography adventure. Entitled 'Your EOS Adventure Starts Here' the multi-million ATL campaign will include TV, online and print.
The campaign, created by Dentsu London and planned by PHD network, will be supported by in-store activity and a new microsite (canon-europe.com/EOSAdventure) to educate, encourage and inspire all types of photographer from beginners to experienced amateurs. The activity will also include a pan-European photography competition and media partnership which will be launched in September.
Shot on location in Cape Town, the creative follows one person's 'EOS Adventure' – showcasing the variety of different conditions that the EOS System excels at capturing; from fire jugglers at night to rainbow coloured kites on the beach. All elements of the 'adventure' are captured perfectly thanks to the EOS System technology, with the shoot being made possible via the construction of a purpose-built camera rig comprising 20 Canon EOS 5D Mark II cameras, to capture time slice shots.
Consumers in eight countries (UK, Germany, France, Italy, Netherlands, Spain, Switzerland, Poland) will be able to see the campaign on TV, in print and online from late August through September.
Nigel Taylor, Marketing Communications Director at Canon Europe comments: "Educating and inspiring people about the power of image drives all parts of Canon's business. The new campaign is designed to engage photographers of all skill levels, from the experienced and passionate enthusiast to absolute beginner. Showcasing the creative potential of the EOS 600D and the EOS System we want to encourage more people to pick up a DSLR and start their own EOS adventure."
Robbie Black, Business Director at Dentsu London, comments: "The brief from Canon was to position the 600D camera as the gateway to the EOS System and inspire entry-level photographers to take the next step on their photographic journey. We wanted to bring the EOS System's exceptional image quality and flexibility to life, so it was fantastic to be able to shoot a lot of the footage on EOS 5D Mark II cameras mounted on a specially designed "Zulu" rig."
For more information, visit canon-europe.com/EOSAdventure