Volvo Hybrid Truck challenges a Ferrari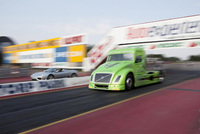 The Swedish racing legend, Boije Ovebrink, is not afraid to challenge other powerful vehicles with his hybrid truck, 'Mean Green'. For example, at the Trucking Festival in Mantorp, Sweden on 27th August 'Mean Green' took part in an exciting race against a Ferrari sports car.

It was a fierce contest with 'Mean Green', a converted Volvo VN featuring the very latest hybrid technology from Volvo Trucks, challenging the Ferrari sports car driven by Henrik Appelholm.

The Ferrari, as you might expect, took the lead from the start, but 'Mean Green' quickly caught up and eventually won by a hair's breadth.
"It was very close and I'm happy because now I know that the Volvo hybrid is as fast as a Ferrari," says a very happy Boije Ovebrink.