Find your dream starter home in Newport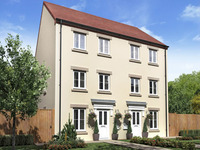 If you're a first time buyer looking for your perfect starter home in Newport, then come on down to Taylor Wimpey's 'First Time Buyer' weekend at Lysaght Village to find out how you can make your dream home a reality.
On Friday 16th September from 4pm to 7pm and 10am to 5pm on Saturday and Sunday, Taylor Wimpey's independant financial advisors will be on hand to offer free consulations to anyone looking to get on the property ladder in Newport.
Whether you are seeking the low maintenance lifestyle offered by an apartment or want a house in which to start a family, Taylor Wimpey has a range of properties available on it's Lysaght Village, City Vizion and Great Western Wharf developments in Newport.
Sara Taylor, regional sales and marketing director for Taylor Wimpey South Wales, comments: "Getting onto the property ladder is a smart move and one which makes sound long term financial sense. Why spend money paying off somebody else's mortgage when you can secure a stunning new apartment at Great Western Wharf for under £90,000 or a two bedroom terraced house for under £117,000?
"To help first time buyers even more, anyone who reserves a property at one of our Newport developments between the 16th and18th September will receive a free 50 inch plasma television or an Apple ipad."
All of Taylor Wimpey's Newport developments offer a wide varity of housing such as apartments, two & three bedroom starter homes and even four bedroom family homes. All the developments are also in an excellent location for commuters, as the M4 corridor is just minutes away making them easily accesbile to Cardiff and Bristol.
Sara adds: "This 'First Time Buyer' event is the perfect opportunity to get out the rental rut– not only will visitors be able to look at the new homes that are within a first time buyer budget, they'll be able to find out about the schemes in place to help them get onto the ladder and can speak to a financial advisor about the best mortgage deals out there. So don't give up on your dream of becoming a home owner, come along to the event to find out more!"
For a luxury apartment in the heart of Newport, City Vizion is the perfect choice. The development is located in the city centre making it easy for all transport needs.
For a river side location on the outskirts of Newport, Lysaght Village is within close proximity to the excellent range of shops, restaurants, attractions, entertainment and culture that can be found in Newport city centre.
And for the best of both worlds, Great Western Wharf is in a great location to enjoy all the benefits of Newport with its well appointed high street, lively Riverfront Arts Centre and good sport and leisure facilties.
For further information about the properties available in Newport, visit taylorwimpey.co.uk.