ASUS U46 notebook - pretty, portable and practical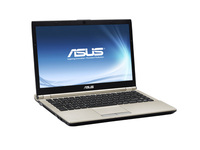 ASUS have announced the launch of the 14" U46 notebook, featuring the second generation Intel Core i5 processor encased within a stunning ultra-slim design measuring less than 1 inch thick.
Fashioned from durable spun aluminium and brushed champagne-coloured metals, the U46 is ultra modern and on-trend this season. Offering up to 10 hours battery life and USB 3.0 technology with faster charging for USB devices, it presents a compact, stylish and highly practical accompaniment for travelling, work and play.
Unique design with the finest materials:
The redesigned U46 notebook is constructed from an exquisite mix of durable spun aluminium covers and brushed champagne-coloured metals.
Measuring a mere 5.5mm, the screen is encompassed by a slim line bezel and uses the world's thinnest 14" notebook panel currently available. A special hinge-forward design enables the screen to be tilted further backwards within smaller spaces, providing much wider viewing angles.
Such thoughtful design attributes lend themselves to improved portability, careful material conservation and enhanced viewing experiences even in confined spaces. Whether users are enjoying media at home with friends or working in-flight, the U46 ensures there won't be any compromise between style, practicality and productivity.
Fully-fledged Intel CPU and superior graphics:
The U46 notebook integrates a 2nd generation standard voltage Intel Core i5 processor alongside discreet NVIDIA GeForce GT540M graphics and 1GB of GDDR3 video memory. The result is super-fast multimedia and smooth multitasking within a slim package, whilst precise, upscale visuals allow for detailed and realistic gaming experiences.
All-day battery life and faster charging with USB 3.0:
USB 3.0 ports offer up to 10 times faster data transfer to USB 2.0 standards, making it a breeze to transfer files, data and pictures between cameras, external hard drives, phones and more.
The U46 boasts up to an incredible 10 hours battery life between charges, and with the inclusion of ASUS' exclusive USB Charger+, users can also benefit from speedy re-charging of USB-powered devices in far less time than is typically required - even when the notebook is switched off.
This versatile combination of energy efficiency, extended battery life and re-charge options for the notebook and USB devices makes the U46 a highly attractive package for anyone needing the freedom to use a range of gadgets away from home, whether its saving photos on holiday, charging phones on a long train journey or backing up an important presentation during a business trip.
Pricing and Availability:
SRP £699 - the U46SV is available now from Comet (comet.co.uk).