Yamina and Stephen living the dream in Woodland Park, Darwen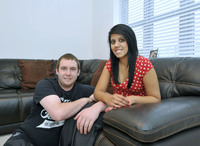 Yamina Makda and Stephen Cornall are living the dream in their brand new Miller Home at the Woodland Park development in Darwen.
Yamina says: "We can't quite believe we are living in our own beautiful new home in a fantastic location it's like a dream come true. When we first started looking for a new home we never thought we would be able to afford to buy a house, particularly a house as enchanting as this."
Yamina and Stephen were pleasantly surprised to find they could afford to buy a 4 bedroom 'Rolland' by utilising the Government backed Home Buy Direct (HBD) equity loan scheme Miller Homes was offering. Designed to help first time buyers, and those in need of a more affordable way to buy their own new build home, people qualifying for HBD can pay as little as 70% of their new home now and get an equity loan, co-funded by the Government and Miller Homes, for the remaining 30%.
Like most young people in their early twenties, Yamina and Stephen were struggling to raise enough money for a deposit on a new home. Although they are both in full time employment, trying to save up the tens of thousands of pounds needed to secure a mortgage was quite a struggle.
Yamina explains: "The Home Buy Direct scheme has made it possible for us to buy a new home and all we had to find was a 5% deposit. With the 20% equity loan from the Government and Miller Homes we have managed to secure our dream home. We can't thank Miller Homes and our friends and family around us enough. Without this assistance we would never have managed to buy our gorgeous house."
Yamina and Stephen moved into their 4 bedroom 'Rolland' mews home in June this year and are thrilled with every room. Stephen and Yamina say: "Our favourite room is our exquisite bedroom on the top floor of the house, which has its own en-suite. If we have friends and family to stay it's our own quiet and private retreat, which is great fun. One of the great things about Miller Homes is the quality of the build and the fixtures and fittings. The kitchen is beautiful and so well appointed it makes cooking a real pleasure."
You may be eligible for HBD if you are not a homeowner but you are in full time work and earn a household income of under £60,000 per annum. One of the benefits of HBD is that you own 100% of your home from day one, which isn't the case with some other schemes aiming to assist first time buyers onto the property ladder. Schemes such as HBD offer an alternative method of funding, which can help avoid the need to raise a large deposit.
Yamina and Stephen never believed they could afford to buy the type of house they now live in, but it is possible through the HBD and other schemes offered by Miller Homes.
Yamina concludes: "I feel like we have been blessed from above. From the help and guidance from friends and family around us, through to the fantastic support we received from Sue at the Miller Homes Woodland Park development. We feel so privileged. I would say to any other young couple thinking of getting on the property ladder to seek out a Miller Homes development. We never thought we could buy such a beautiful home but if we can do it so can others."

To find out more about HBD, other incentive schemes to assist first time buyers and homes available at Woodland Park visit the marketing suite located at Anyon Street, Darwen, BB3 3AA. It is open from 10.30am to 5.30pm Thursday to Monday. Alternatively, visit millerhomes.co.uk.