Acer Aspire S3 combines best of tablet PC and smartphone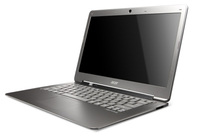 Traditional notebooks, tablet PCs and smartphones each have their unique advantages in design: notebooks provide computing power and enhance productivity; while smartphones and tablet PCs start up and access the Internet quickly, are small, light and easy to carry, as well as simple to operate. With the growing popularity of mobile communication, users want all of these conveniences from their notebooks. Acer introduces a new generation of notebooks to satisfy these needs: the Aspire S3.

Notebooks have primarily been used for data creation. Over the past 20 years, their applications have grown in abundance, while computing power and communication capabilities have also steadily increased. At the same time, the form factor has become slimmer. However, there has continued to be room for improvement when it comes to startup time and battery longevity in standby mode. Also, users demand ever thinner and lighter designs.

Tablet PCs and smartphones are new mobile devices designed mainly for data consumption. They are smaller, lighter, and offer fast startup and Internet access. Their drawback is productivity performance, for which notebooks are still superior.

As the Internet has become a part of everyday life, consumers require more than just computing power: they demand smaller, lighter devices with faster connectivity to the Internet anytime, anywhere.

The Aspire S3 notebook blends full PC capabilities with the advantages of tablet PCs and smartphones, plus the additional innovations of Acer Green Instant On and Instant Connect — which not only make life on the go easier for users, but also reflect Acer's efforts to adopt increasingly earth-friendly practices. What's more, the ultra-thin and light design of the Aspire S3 meets the real needs of modern notebook users.

The open cell design of the 13.3" HD LED display contributes to the thinness and durability of the cover by using the lid and bezel to form an aluminum frame for the screen, and in the process, conserves materials. Furthermore, the high-efficiency battery requires less charging, making the Aspire S3 a greener choice for environmentally-conscious buyers. Bottom line: The Aspire S3 gives users instant and enduring gratification with sharp performance, thanks to instant on, quick connectivity, and long battery life in an ultra-aerodynamic design.

Acer Green Instant On technology has two sleep modes from which the Aspire S3 resumes ultra-fast. In Sleep the Aspire S3 will resume in a mere 1.5 seconds, and in Deep Sleep it resumes in 6 seconds. Furthermore, Acer Instant Connect accesses the Internet in only 2.5 seconds, which is four times faster than conventional connections, reducing waiting time so users can go faster for better productivity and infotainment enjoyment. With Acer Green Instant On, the Aspire S3's battery life lasts up to 50 days — even longer than regular mobile phone batteries!

In terms of mobile communication, the Aspire S3 delivers a fresh user experience, and is expected to lead a new growth momentum for Acer's notebooks. Acer will continue to research and develop innovative, eco-smart designs to fulfill users' needs and contribute to a healthy global notebook market.