Taste the finest Czech wines at traditional wine harvest festivals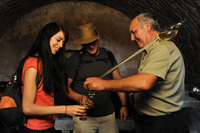 These folk festivals called in Czech "Vinobrani" are usually very playful, full of Czech culture, traditions, live music and theatre performances, open air markets and very often connected with food festivals sampling the best of traditional Czech cuisine. The speciality not to be missed is "Burcak" - the fermented young wine available only for weeks around the grape harvest. It is high-sugar, cloudy drink and be careful it's alcoholic!
Selection of Czech Wine and Food Festival - Autumn 2011
16 - 17 SEP 2011 - Prague Wine Festival at Grebovka Park in antique Rome style - the Prague 2 Vinohrady will host the 5th annual Vinobrani with the procession of Roman gods and satyrs, gladiators and live elephant.
16 - 18 SEP 2011 - M?lník Wine Festival
A traditional town festival - folk crafts, fencing duels, street entertainment, a historical military encampment, the procession of Charles IV and his retinue, fireworks, and, above all, plenty of M?lník wine. The first wine festival took place here in 1878, marking the 500th anniversary of the king Charles IV's passing of town. The spectacular programme takes place on four stages featuring contemporary rock music, folk and country music, sword duels, period dances and jugglers performances. The market fair offers many hand crafted products. The celebrations reach their peak Saturday evening, when King Charles IV comes to town with his entourage to inspect the grape harvest and taste the M?lník wine. Celebratory fireworks will light up the city in tribute to this rare visit.
23 - 24 SEP 2011 - Litom??ice Wine Festival
A main stage, children's stage, street stage and jazz stage, each with its own programme all taking place simultaneously. The street stage, flanked by a number of market stands and a knights' encampment, will offer Gothic-period music, dance shows, theatre, jugglers, stilt walkers, a number of scenes from life in the Middle Ages, and jousting tournaments with dozens of participants. Of course, a royal procession headed by Charles IV is also part of the festival.
A completely new feature will be the big Winemakers' Tent, which will complement the offer of the popular bur?ák and tap wine stands with an expert presentation of varietal wines led by members of the Bohemian Winemakers' Guild. The Litom??ice Wine Festival in the stunning Central Bohemian Uplands should certainly not be missed.
24 - 25 SEP 2011 - Karlštejn Wine Festival
The already 15th Karlštejn Wine Festival takes place once again at perhaps the most famous castle in Bohemia. The 250-member procession in Gothic costumes headed by Holy Roman Emperor and King of Bohemia Charles IV and his wife Elizabeth of Pomerania will guide visitors of the Central Bohemian Karlštejn Castle back to the 14th century. You can look forward not only to tasting wine, bur?ák and culinary delicacies, but also to historical stands with demonstrations of traditional crafts, fencing, juggling and piper shows. Also part of the rich programme for children and adults is instruction in historical dances and an evening fire show. During both days, this programme takes place both at the castle and in the castle surroundings.
23 - 28 SEP 2011 - St. Wenceslas Festival in Cesky Krumlov
One of the top visited places in the Czech Republic, Unesco listed town in South Bohemia will host the annual festival of good food, drinks, music and art performances all around the town. It is a celebration of St. Wenceslas - Czech parton of beer and wine makers. The rich programme will also include open night in all town's museums and galleries, a chance to have a view from the castle's lookout tower.
01 - 02 OCT 2011 - Valtice wine festival
Traditional wine festival in the centre of the wine making region - South Moravia. Art performances, historical procession through town, wine and new wine on sale, market fair, dance night in the chateaux hall.
19 - 20 NOV 2011 - Open Festival - St. Martin, Znojmo
The wine cellars in and around the town of Znojmo - one of the centres of wine making in the Czech Republic - will be open for meeting and discussion with local wine makers. The wine tasting will be accompanied by local delicacies and music performances.