Increase in winter weddings across South West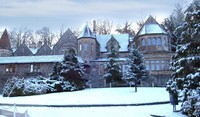 More couples from across the South West are getting married during the winter as they look for ways to celebrate their big day while keeping down the costs.
The rising trend towards winter wedlock has been particularly apparent at the region's top wedding venue which has seen an increase in the number of celebrations during Christmas and New Year.
Backed by research from retail giant Debenhams, which reported that Winter weddings were up 28 per cent, the week of Sunday 26 December is now as popular as the first week of July, previously known as the peak wedding week.
DoubleTree by Hilton, Cadbury House general manager Colin Badcock said: "There has definitely been a rise in the number of weddings and receptions during the winter here at Cadbury House. Not only is there less competition for venues but prices are usually lower which is an important factor in these tough economic times.
"There is also something very romantic about tying the knot in the winter and we also find that more guests are able to attend and are often more generous with gifts, so it's a good decision all round!"
The changing trend has resulted in a shift by venues like Cadbury House to provide packages specifically tailored for couples looking to tie the knot during the winter.
Colin added: "The trend towards winter weddings has meant we've had to introduce new packages like our Winter Ice White & Diamond Wedding offer.
"Available during November, December and January it enables couples to enjoy a winter wonderland setting coupled with the glamour and four-star service of any Cadbury House wedding.
"With hot mulled wine upon guests' arrival, the reception rooms are dressed in white to create a magical winter wonderland, made beautiful with white flowers, silver table confetti and white and silver balloons.
"Add in the stunning views across the Bristol Channel and the superb mix of traditional and contemporary décor those looking to tie the knot during the winter will be hard pushed to find a more perfect setting."
For more information about the packages and upgrades available as well as prices and availability, email info[at]cadburyhouse.com.