Team Subaru Pro-R take Time Attack Honours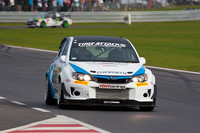 The Subaru Pro-R Racing Team has taken top honours in this year's UK Time Attack Championship, scooping the coveted overall title in the Club AWD class. The closely-fought final round took place at the Snetterton Circuit in Norfolk and saw the Cross Roads Garage-prepared car clinch the trophy by just one point!
Driver Jon Mathers skilfully piloted his Subaru STI to an impressive third spot, despite nursing a valve train problem and giving up a few hundred horsepower to his nearest rivals. However, thanks to faultless reliability all season, and some superb wheelmanship, Mathers results carried him through to take the crown – a feat made more impressive when you learn that Mathers' day job is as a Dealer Principal at Cross Roads Garage, and has only had a race licence for a few months!
The car itself is also noteworthy. Although it contains many tricks and tweaks under the bonnet, courtesy of technical partners, TDRacing, many of the key chassis and drivetrain components come from Subaru's 'over the counter' Pro-R tuning range, and can be ordered from any Subaru dealership. Part like the brakes, bushes, filtration systems, hoses, springs and exhausts are either identical to the road car range or produced by the same manufacturers.
Commenting on his win, a clearly elated Mathers said 'This result is just as much down to the team and sponsors as it to me. We have had exceptional support from the brands behind the Pro-R range this season, and I think, as an object lesson in proving that a product range really works, this has done its job perfectly. There are so many people to thank, but ABW's bodywork skills, along with TDRacing's flawless mechanical genius have played a major part this season, but every single partner on the car has been there for us all year. Scorpion even made us a unique 'Snett Spec' exhaust for this round for the final, to keep us under the noise regs. I'd like to thank them all personally.'
For more information on Pro-R, visit pro-r.co.uk.
For more information on Cross Roads, visit subaruvehicles.co.uk.