Aldi launches Four Bird Roast for Christmas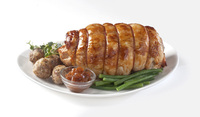 A new twist on one of Aldi's most famous Christmas dishes, the handmade Four Bird Roast includes turkey, goose and duck breast meat layered with a pork, sage and onion stuffing, all wrapped in a basted chicken breast. This delicious dish also includes a marmalade glaze, specially created by TV chef Phil Vickery.
In December 2010, Aldi's popular Three Bird Roast sold at a rate of 12 every minute, and it is hoped that the Four Bird Roast will enjoy a similar success with shoppers.
Aldi's Four Bird Roast serves 6-8 people and includes no artificial colours, flavours or preservatives.
Four Bird Roast - 1.48kg, £9.99