Taylor Wimpey returns to Kelty and Armadale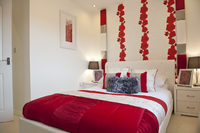 This weekend sees the return of Taylor Wimpey back into both Kelty in Fife and Armadale in West Lothian – areas where the company has enjoyed great success in the past and is delighted to be launching its latest range of new homes for buyers looking to make a move this autumn.
Both developments will boast an impressive choice of Taylor Wimpey's new 'Scotland range' of new homes which are designed to offer a refreshingly stylish and practical layout that gives families the opportunity to enjoy spacious homes to get on with every-day living.
Each new home at both developments is designed to reflect the most current Scottish Building standards, and is also adaptable to accommodate the sustainable planning policy SPP 6 where required.
Energy-efficiency has also been maximised with improvements to windows, and insulation in the floors, walls and roof in order to achieve improved thermal performance resulting in impressive SAP ratings. And each plot will now also come complete with its own energy performance certificate.
The homes in the 'Scotland' range are designed to be able to offer a more practical and considered living environment that's universally more accessible to a wider range of consumers, with each new style working hard to deliver an improved floor-layout that maximises every-day living for all.
A handy level access is provided to every property to make getting inside easy, plus there are turning circles and approved 'activity' spaces where appropriate. Downstairs there is an allowance of space for a shower should this be required in the future by the property-owner. And a space allowance at the bottom of every stair-case allows for the installation of a stair-lift should it become required, and door widths have increased to ensure passage throughout the house is easy. In addition, one of the rooms on the ground-floor of each property has also been designed to allow it to be transformed into a downstairs bedroom.

Ferrier Path is part of the Armadale Station Community Development - an exciting £200 million regeneration plan for South Armadale. This development offers an impressive choice of 75 two and three bedroom semi detached homes, as well as three, four and five bedroom detached family homes from the 'Scotland range'. Prices start from £119,000 for the two bedroom semi detached Andrew. The regeneration plans for this area will also include a primary school, a multiplex cinema, shops, supermarket and restaurants, as well as a hotel and a residential care home.
Ferrier Path is situated within walking distance of the new Armadale Railway Station on the Bathgate-Airdrie rail link. And new infrastructure provides easy access between the station and Armadale town centre itself. Plus Armadale is easily accessible for both Edinburgh and Glasgow with the M8 within easy reach of the development – making it a superb choice for commuters. A good bus network also offers a great way to get round the local area.
Set in open countryside with magnificent views, Kelty in Fife is now home to Redmond Brae – a development of 49 new homes with a choice of two and three bedroom terraced, three bedroom semi detached, as well as three and four bedroom family homes. Prices start from £149,950 for the three bedroom semi detached Chalmers.
Kelty is situated a short distance from both the M90 and A92 which both provide excellent commuter links to both the north and south – making it a convenient choice for commuters to Perth, Kirkcaldy, Dunfermline and the east coast. With a vibrant High Street locally and a range of great amenities, this development will be a popular choice for a wide range of buyers looking to maximise their budget.
Being back in both Kelty and Armadale gives Taylor Wimpey an opportunity to build on its reputation for great quality family homes as Karen Armstrong, sales and marketing director for Taylor Wimpey East Scotland adds: "It's great to be back in both Armadale and Kelty and to be able to introduce buyers to our new Scotland range of homes. Our reputation to deliver high-quality stylish homes will be reinforced when buyers see for themselves the levels of workmanship and attention to detail that comes as standard with every one of our new homes. This range has been carefully designed to offer a home that can adapt as buyers needs change throughout their life, whilst offering spacious well-designed living space for right now!"
For more information, visit taylorwimpey.co.uk.