A stellar start for a soldiers family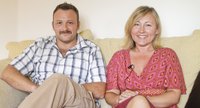 UK House builder Miller Homes has proven that buying a property can be as easy as a few clicks of a button as one family found out when purchasing their new home in the region all the way from the Middle East - by using only the house builder's website.
Admin assistant Michelle Robinson, moved into her new three-bedroom Hampton Miller home at The Pastures development in Darlington without previously viewing the property, with her two children and husband, who serves in the British Army.
Michelle had to act fast and purchase a property in the UK before her husband's service in the Middle East came to a close to avoid being homeless when making a return journey back to England.
Michelle needed to be close to Catterick Garrison army barracks, in North Yorkshire where her husband's new army base was to be. This spurred them on to make the unprecedented leap of buying a new property in Darlington without a single viewing.
Michelle said she managed the move based on her small knowledge of the area, the detailed Miller Homes website and the fantastic display of customer service by sales adviser, Barbara Kettlewell, who Michelle said she bombarded with questions day and night before eventually buying the home.
Michelle said: "I did a lot of research online on the Miller Homes website and came across the Pastures development in Darlington, which seemed to be perfect. It's close to the A1 for my husband to drive to his army base in Catterick, and it's only a short walk into town or to the park, making it a great location for the children too.
We could have just moved into Army families accommodation but we wanted to experience living in our own home.
"Obviously we were incredibly nervous visiting our new home for the first time but everything turned out to be just as expected. We were delighted with the size of the garden and children's bedrooms because normally in a three bedroom home there is always one box room, but this third bedroom was ample in size.
"We will have to move on again soon as my husband is only on a three year posting. This is a genuine shame as I really love living in this home and will be very sad to go after making some lovely friends on the development.
"If I get the opportunity, I will definitely rent the property out or try to part-exchange with Miller Homes in a different region as I have found Miller to be so helpful to deal with."
Miller Homes sales adviser Barbara Kettlewell said: "It's always a real pleasure finding a family the right home. It's very stressful for anyone moving home never mind taking on board the extraordinary steps of completing the process completely from the Middle East!
"We are very pleased the Robinsons have settled in and will be happy to assist again when the time comes."
Close to Darlington's South Park, and just a 20-minute walk into town, The Pastures is an attractive tree-lined development of new homes in a convenient location. Close to the A1(M), the contemporary homes are in close proximity to Teesside and County Durham.
Prices range from £125,000 for a three-bedroom home, but can be bought for only £100,000 now on the Government's new equity loan scheme Firstbuy, which is being targeted specifically at military personnel who are the top priority to benefit from the nationwide purchase assistance scheme.
Qualifying buyers will have the opportunity to select one of the Firstbuy properties available from Miller Homes and will be able to purchase 100% of their home by paying up to 80% of the value now, with both Miller Homes and the Government equally funding the remaining 20% in the form of an equity loan.
For further information on the Firstbuy scheme and The Pastures, visit millerhomes.co.uk.