Sex and the City's Samantha goes Wild for JASON Yam Creme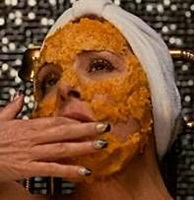 When the much anticipated Sex and the City 2 film was released, women from all over the globe totted to cinemas in their Manolo Blahniks to see Carrie, Charlotte, Samantha and Miranda on their latest thrill seeking venture.
The movie sees the four most famous ladies in Manhattan head off to Abu Dhabi for a girlie holiday of sun, sand, sangria and for feisty cougar Samantha Jones… the dreaded menopause. As the 52 year old glamorous New York publicist noted the classic menopausal symptoms; hot flushes, loss of hydration in the skin, mood swings and decreased libido, of course the self-confessed sexaholic wasn't going to give in to Mother Nature without a fight!
Throughout the film, Samantha religiously applied wild yam face mask to keep the redness at bay and was also seen packing JASON Balancing Wild Yam Creme in her suitcase along with an array of lotions, potions and hormone balancing supplements. Wild Yam itself is also known for its therapeutic benefits as it contains compounds, particularly diosgenin, that mimic certain hormones such as progesterone and this helps correct hormonal imbalances which occur during the menopause.
The JASON Balancing Wild Yam Creme is a luxurious, super hydrating blend of Licorice, Ginseng and Wild Yam specifically designed to comfort and balance menopausal skin by increasing moisture retention and boosting elasticity, clarity and radiance. With JASON Balancing Wild Yam Creme by her side (and on her face…) Samantha survived the menopause and continued to look as gorgeous as ever.
JASON, a pioneer in the natural personal care category since 1959, have this year launched the JASON Balancing Wild Yam Creme with its NEW look packaging, priced at £14.99.
Celebrity fans of JASON include Reese Witherspoon, Alice Temperley, Jasmine Guinness, Analeigh Tipton and Kimora Lee Simmons.
For further information on JASON natural care products, visit jasonnaturalcare.co.uk.