New home and new baby within 24 hours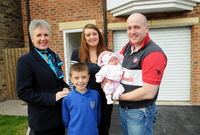 A new home and a new baby was all in a day's work for one couple who have recently bought a new house at the Miller @ Beaumont Court development in Pegswood, Morpeth.
Linzi Smith 29, a medical secretary at Greystoke Surgery in Morpeth and her partner Chris Sanderson 33, who works at computer firm Hewlett Packard, recently moved from a three-bedroom semi in Green Lane to their new four-bedroom townhouse whilst Linzi was nine-months pregnant.
The evening before the couple got the keys to their new pad, where they also live with their son Ethan aged nine, they went to pick up a takeaway after a day of packing boxes and on return Linzi started getting contractions. Later that evening Linzi and Chris announced the safe arrival of their baby daughter Cora, who was born at Wansbeck General Hospital weighing 7lb 5oz.
Less than 24-hours later Chris received a call from his solicitor to confirm the money had transferred on the house sale and Miller Homes handed over the keys to their new home, where the new family are already settling in well to their new life.
New father Chris Sanderson said: "I still cannot believe that so much has happened in such a short space of time. On the Thursday night I became a proud new Dad and on the Friday morning I was the owner of a new home. We left one home to have the baby and returned to a brand new home– it's unbelievable.
"As well as all the unpacking, I had to quickly get the nursery and cot ready for Cora's homecoming.

"We are totally in love with our new daughter and it was so lovely being able to bring her home to our beautiful new townhouse, which is set in the perfect area to bring up our children.

"The staff at Miller Homes were so excited when I told them Linzi had just given birth the previous night – they offered to do anything they could to help us on moving day and really made our double celebration even more special."
Miller Homes sales adviser Julie Ridley said: "It always is rewarding seeing homebuyers move into their new home, but this really was an extra special moment for us all. Everyone at Miller Homes wishes Chris, Linzi, Ethan and baby Cora well in their new home."
Chris and Linzi moved to the Miller @ Beaumont Court development where three and four bedroom homes are priced from £129,950, via the Miller Homes' Home Exchange scheme MiSwap - a unique scheme, which allows buyers to swap their current home for one of Miller's selected plots whether they are looking to upsize, downsize or swap like-for-like. No differentials required.