Warm up this winter with bottlegreen's 'Enjoy Hot' cordials!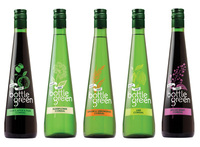 The crisp winter days are finally upon us, which means evenings in front of the fire with loved ones, weekend walks through snow covered countryside and a whole host of fantastic seasonal parties. This year, embrace the winter spirit with bottlegreen's range of enjoy hot cordials - gorgeous fruity flavours, guaranteed to keep you warm right through until spring.
With six delicious flavours to choose from, bottlegreen's enjoy hot cordial range is perfect for every winter occasion. For the ultimate winter warmer, dilute the fragrant ginger & lemongrass cordial with hot water. With its distinct aroma and fiery taste it's ideal for keeping toasty on bonfire night.
Alternatively, try lime cordial, the zesty flavours of fresh limes blended with rare aromatic bitters creates a zingy winter combination, and is perfect as a warming treat after a festive night out with the girls. While to bring back the memories of summer, the delicate flavours of elderflower cordial work together beautifully with hot water to create a warming and soft drink that's perfect for adding a sophisticated touch to cosy winter social gatherings.
Other winter warmer flavours include cox's apple & plum cordial, with its mouth watering flavours of ripe red plums and crispy orchard picked apples, and the rich and succulent spiced berry cordial, which conjures up festive thoughts and feelings.
bottlegreen cordials are also a great option for fruit tea lovers looking for a caffeine free alternative – to brighten up a winter's day try a measure of pomegranate & elderflower cordial with hot water and enjoy its subtle exotic flavour.
So for a delicious hot drink with a difference, try the range of bottlegreen enjoy hot cordials for the ultimate in winter treat.
bottlegreen enjoy hot cordials are available from major supermarkets, priced from £2.99.
To find out more about bottlegreen and be inspired with a great selection of winter recipes, visit bottlegreendrinks.com.