New gluten-free Corn Thins from Rude Health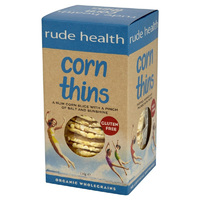 First, Rude Health brought out Thins - wholegrain and organic snacks full of flavor and low in calories. Snapped up with gusto, the range of Multigrain, Oaty and Rice Thins have been satisfying mid morning and afternoon urges nationwide and beyond. Now Rude Health brings out Free From Thins. Still wholegrain & organic, still full of flavor & low in calories, new gluten-free Corn Thins are a delicious and nutritious snack time treat.
Available immediately in the gluten free isles of Tesco and Sainsbury's, Rude Health's new Corn Thins (RRP £2.50) are gluten-free, high fibre and low in fat. Containing puffed corn with a hint of sea salt, the Corn Thins are a mere 22 calories per slice/piece/portion and will appeal to health-conscious consumers seeking guilt-free snacks.
"Recent years have seen significant growth in adult snacking occasions. But with increasing concerns over healthy eating, there is demand for products that are low in fat, low in salt and free of refined ingredients," says Nick Barnard, Managing Director.

"There has been lots of success with premium, hand-cooked crisps. Similarly Rude Health has spotted an opportunity to make higher quality, better tasting alternatives to existing rice cakes and crackers," comments Barnard.

Made with the finest organic wholegrains, Rude Health's Thins don't compromise on taste either. 'High-quality ingredients' is one of the most important choice factors of consumers buying premium snacks. Rude Health have developed their Thins to broaden market appeal and suggest they are enjoyed as sophisticated nibbles with dips or cheese for example, as well as desktop snacks.