Lexus GS F Sport to be unveiled in Las Vegas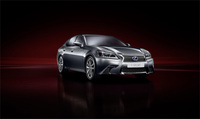 Lexus will reveal the new GS F Sport at the SEMA show in Las Vegas on 1 November. The F Sport will be available in the UK and across Europe next year, featuring a new front bumper design with larger side grilles. Together with a dedicated mesh design for the upper and lower grilles, this gives the GS a stronger appearance, reinforcing its wider track and sportier stance.

At the rear, the F Sport is distinguished by a grey metallic finish to the bumper diffuser. On the GS 450h F Sport there is an additional chrome moulding on the bumper's lower section, adding extra dash to the car's road presence.

The F Sport package also includes a rear spoiler and – exclusive to the grade – dark metallic finish 19-inch alloy wheels which have a staggered width: at the front 235/40/19 tyres are used, while the rear wheels are fitted with 265/35/19 tyres. This not only adds to the sportier look, it also improves the car's traction.

The interior features matching door and seat upholstery that will be available in a new Garnet (deep red) shade that is exclusive to the F Sport. Other features include aluminium trim elements, 16-way adjustable F Sport front seats, a black headliner and pillar finish, dimple perforated leather steering wheel and gear knob covers and aluminium pedals. The scuff plates bear the F Sport logo in black and the F Sport badge is also featured on the steering wheel.

Suspension
The GS F Sport has retuned front and rear suspension, supported by Adaptive Variable Suspension to maximise body control and steering response, so improving overall vehicle agility.

The front and rear shock absorbers have been modified to optimise AVS damping control, and the use of low viscosity oil improves their efficiency by reducing friction. In addition the rear shock absorbers have been inclined further to the rear, and the lower bushings have been made larger and stiffer.

Together these modifications maximise the AVS's control of body roll and, hence, improve response to steering inputs for a more engaging drive.

AVS allows the driver to fine tune the GS's ride with a choice of two damper settings: Normal, for everyday driving, and Sport S+, for greater body control and precise responses to steering when cornering.

AVS reacts to driver inputs, movement of the vehicle body and road surface conditions, activating the adjustable damping force of the shock absorbers to automatically adapt suspension performance at all four wheels independently.

Switching to Sport S+ mode automatically increases the difference between inner and outer shock absorber damping when driving through corners, further reducing vehicle roll. At the same time, the Variable Gear Ratio Steering automatically reduces the steering gear ratio by about 10 per cent, while the Electric Power Steering increases steering assist torque by about four per cent. These measures combine to minimise body roll, sharpen handling and optimise steering feel.

Drive mode select system
The new GS features a drive mode select function that lets the driver choose between Eco, Normal, Sport S and Sport S+ driving modes, designed to maximise the car's environmental efficiency or its dynamic performance.

In Eco mode, engine output, the degree of throttle opening and gear selection are all automatically modulated to achieve the best fuel efficiency in all driving conditions. The air conditioning temperature, airflow volume and activation of the seat heaters are also controlled, further reducing fuel consumption.

In Sport S mode, engine speed and throttle responses are adjusted to give a more engaging driving experience. Switching to Sport S+ combines the enhanced powertrain output of Sport S with co-ordinated control of the GS's Vehicle Dynamics Integrated Management system. This includes the AVS and Electric Power Steering, plus, where fitted, the Lexus Dynamic Handling system, Variable Gear Ratio Steering and Dynamic Rear Steering, to give a complete package of sports driving dynamics.

Lexus Dynamic Handling
The GS 450h F Sport is equipped with the Lexus Dynamic Handling system, making it the world's first hybrid vehicle to feature an integrated four-wheel steering system.

The leading-edge platform technology enables integration of the Dynamic Rear Steering, Variable Gear Ratio Steering and Electric Power Steering to co-ordinate every aspect of front and rear wheel control, giving agile, sharp and confident driving behaviour with more direct response to the driver's actions.

The handling system monitors vehicle speed, steering direction and driver inputs, and calculates the optimum angle for all four wheels. Using Variable Gear Ratio Steering at the front, and Dynamic Rear Steering at the rear, the system can independently control front and rear wheel steering angles to greatly improve turn-in response, rear grip, stability and overall agility when cornering.

Dynamic Rear Steering monitors vehicle speed and yaw rate, steering angle and speed, and lateral G force to determine the required rear wheel steering input, up to a maximum two degrees. At most speeds below 50mph (80km/h) the front and rear wheels turn in opposite directions; in certain conditions above that speed, they turn in the same direction.

Further coordinating the Dynamic Rear Steering with the Variable Gear Ratio Steering and Electric Power Steering, the Lexus Dynamic Handling system will automatically adjust the tuning of the adaptive suspension and the active safety systems to suit the road conditions, vehicle speed and driving style.

All GS F Sport models are fitted with larger, 356 x 30mm ventilated front disc brakes. In a world-first design, the hat section of the braking system's two-piece rotor is made of aluminium, which reduces weight and suppresses heat deformation.