Great-value new homes for sale in East Sussex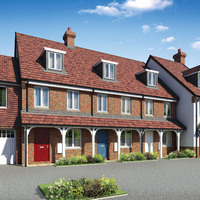 First-time buyers can take advantage of the Government-backed FirstBuy scheme at Taylor Wimpey's The Grange and Millers Keep developments of new properties in East Sussex.
Eager purchasers have been quick to snap up the FirstBuy properties available at The Grange in Hailsham and Millers Keep in Stone Cross, and the scheme is only available with four properties in East Sussex at the developments.
FirstBuy lets qualifying first-time buyers secure eligible homes for sale in East Sussex for just 80% of the full purchase price, including a 75% mortgage and a 5% deposit, subject to status.
With FirstBuy eliminating the need for a large downpayment, purchasers could access their dream first property in East Sussex at these stunning developments with a 5% deposit of as little as £7,150!
Fiona Creed, Regional Sales and Marketing Director for Taylor Wimpey, says: "This exciting scheme has been making a massive difference to first-time buyers who have previously struggled to buy new houses or apartments in East Sussex because of the need for a big deposit.
"Many home-hunters have already been quick to use FirstBuy at The Grange and Millers Keep, so the message to first-time buyers hoping to secure one of these final four homes is to hurry up – or risk missing out!"
FirstBuy customers receive a 20% joint loan from Taylor Wimpey and the Homes and Communities Agency (HCA), which is repayable at the end of the 25-year mortgage term or when the property is sold. The scheme is open to first-time buyers with total household earnings under £60,000.
Under FirstBuy, for example, the stylish one-bedroom 'Sunflower' coach house-style apartment at Plot 34 of The Grange, which is priced £142,995, is accessible to qualifying purchasers for an 80% FirstBuy price of just £114,395.
The 'Sunflower' benefits from a spacious living/dining room with an attractive Juliet balcony, a separate contemporary fitted kitchen, a double bedroom, and a main bathroom off the private entrance hallway. Access to the 'Sunflower' is gained through the private front door while an allocated parking space can be found outside.
Alternatively, the three-bedroom 'Hollyhock' terraced house at Plot 68 of The Grange, priced just £199,995, can be secured for an 80% FirstBuy price of £159,996, while at Millers Keep, the one-bedroom 'Keep' coach house-style apartment, priced £186,995, is available for an 80% FirstBuy price of £149,596. The two-bedroom 'Miller' is also available for 80% of its full price under the scheme.
The Grange is situated within 76 acres of farmland on the western edge of Hailsham, and just over a mile from the shops and amenities of the historic town centre, bordering the beautiful Sussex countryside.
Meanwhile, Millers Keep has been carefully planned within a peaceful cul-de-sac in Stone Cross, with a selection of mature trees and hedgerow complemented by new trees in a delightful green open space around an existing pond. Within a short walk of the development is a local supermarket, a primary school, a pub and the village playground.
For further information, visit taylorwimpey.co.uk.