buddhify: on-the-go meditation app for hipsters, not hippies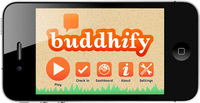 Experienced meditator and former management consultant, Rohan Gunatillake, has launched buddhify, the world's first meditation app designed for urban life.
buddhify offers an accessible and playful introduction to mindfulness meditation and mental training, to help users make the most of 'dead time'.
Whether commuting to work, at the gym, walking about town or at home, buddhify offers quick and easy meditation, to help users focus, improve awareness and increase wellbeing in the midst of the city.
Offering a modern interpretation of an ancient practice, buddhify allows users to experience a personalised introduction to meditation, with over 32 specially created audio tracks and simple, intuitive app navigation.
buddhify is a mobile app (available for iPhone and Android), which gives today's busy city dweller a flavour of relaxing and refocusing mindfulness meditation.
meditations are designed for use while commuting, walking, at the gym and at home
buddhify is primarily an individual meditation experience, allowing users to personalise and self-assess their progress.
A unique feature of buddhify is two player meditation mode, with four 10 minute tracks allowing users to meditate together.
Male and female audio available on all meditation tracks.
Development and promotion for buddhify was funded by a successful crowdsourcing campaign, with investors including Danae Ringelmann, co-founder of indiegogo.
Available to download for £1.99, from 3rd November 2011.